We at Dealnloot always strive to find out ways that would make your experience with us easy, smooth and rewarding. We will perpetually keep the doors open for innovation and betterment which is evident with the various features we tried to offer time to time and kept them updating . In the process of reaching out effectively to you all, we have made many attempts like Chrome push alerts, Whatsapp Alerts, Messenger Alerts, Chrome extension, Facebook Group and Mail Alerts. A few of them are still functioning well and have been helping you a lot to get easy and instant access to the best deals and loots while some of them went obsolete with meagre responses from your side.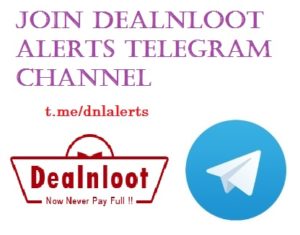 But our Quest for Innovation never stops and there goes a new mechanism to let you stay updated with the best deals available on the E-commerce market using the Feature-Rich cloud based instant messaging platform, Telegram. Let's go on to read how it works and how it solves all the problems faced in our prior system of alerts.
How to Subscribe to Dealnloot Alerts Channel & use Deal Bot ?
1. Click to join Dealnloot Alerts Channel or Click to say Hi to our Deal Bot !!
Continue reading →