Online Shopping is always an interesting experience, and when it is paired up with that little extra discounts, our sense of achievement goes up to the next level. It even gets multifolded when you share such experiences with your friends or family members and eventually become a Deal Guru for them. With the presence of Dealnloot , you might have had many such experiences but why just limit yourself to your circle, as we online shoppers are rather a very large community helping each other by sharing the deals. So just share your conversance with all of them and worry not, Dealnloot is here to provide such platform for you i.e., Shop, Share & Win .
We know you always want that "little extra" so we are adjuncting this with some rewards given every week . Additionally, first 50 Early birds will get guarantee reward of Rs 20 Paytm Cash. Now , Let us see the procedure on how this system is going to function.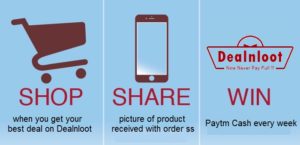 As a special introductory offer, the first 30 unique persons (24 claimed already) to comment with valid entries will get guaranteed Paytm Cash of Rs 20 each. So start sharing your experiences now itself.
How to take part in this Shop, Share & Win program ?
1. Keep visiting Dealnloot regularly , as you always do.
2. Whenever you get any best deal or offer from us that you like, just buy it / avail that offer.
3. Now you would arise with two use cases, i.e., for product and for offer redemption (ticket booking / recharge etc)
For products, you need to share ---> [i] . The picture of the product and [ii]. The screenshot of placing order along with Date, and Dealnloot Post link.

For other offers like tickets booking (travel, movie) or recharges etc , you need to provide the relevant screenshots of order placement with discounts / cashbacks along with DnL Post Link.

4. We would select the one best share of the week (in random and preferably the best deal availed) and award with Paytm cash of Rs 50 each on every weekend.
Now don't think twice !! Here you got an another reason to shop regularly with Dealnloot :)
How to upload the images and claim entry ?
1. Visit ctrlq.org/images >> Upload Picture
2. Upload all the required images one by one. (Cover up any personal info by editing it on MS Paint or any other app)
3. After each image is uploaded , copy the " Image Embed Code " and proceed for the next image to upload.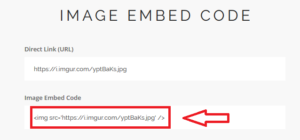 4. Now Comment below with all the image embed codes along with the link of the deal posted on Dealnloot , from where you got to know the offer.
5. If your entry is valid, we would consider it for the selection and publish the winner of the week on every Sunday.
6. Once you see your name over here, send us an email at [email protected] with your Paytm number to get the reward.
Frequently asked Questions
1. Not able to search the post to give the link. Guide me.
As already said, giving the link of the post at Dealnloot is mandatory for an eligible entry. So if you are facing any issue regarding that, checkout these steps.
Make use of the search bar present on Dealnloot. You can find it at right side on PC / Laptop or at the bottom for Mobile devices.
Now enter the product name and search for the post , try checking those dates on which you have made the order.
If you are still not able to get it, make use of google. Just search your product / offer with extra tag " site:dealnloot.com " . Ex - " Coolpad Cool VR site:dealnloot.com "
Please feel free to ask us, if you are facing any more issues or have any doubts regarding this SSW Program. We would surely guide you.
2. What conditions are to be met for eligibility ?
The order date should be visible in the screenshot that you upload and it should be the same date (or offer period) as of when the post regarding that deal is published in Dealnloot
You can participate in every week with a different product or offer (hereby called as entry) and any number of unique entries can be posted in a single week.
The product / offer once posted in a week, cannot be used for the participation in subsequent weeks.
The images should be clear and display all the details that confirms the legibility of the entry . As you know, we always believe in fair play.
The link of the offer posted on Dealnloot needs to be included mandatorily without which the entry remains invalid.
The final decision of the winner is at the sole discretion of Dealnloot Team and we reserve the right to modify the terms anytime without prior notice.
Give an active participation in this program and we would  surely increase the reward, number of winners too soon. Awaiting to see your comment every week over here, Cheers !! :)