Dealnloot , I need to say is the pioneer in reaching out to the users through various platforms. We have experimented and launched many possible alternatives to get you the best deals at your hand, though based on your review dropped a few. Whatsapp alerts is one such hugely successful one and also the most friendly to the users. But as you already know, the Dealnloot users base is soo high that no existing phone in this world could handle the broadcast list of subscribers.
Paid Whatsapp was one such option we thought of, but you didn't like and so we dropped it as dealnloot is not ours, it yours ;) . Scrounging into the other alternatives we have finally landed onto a solution which we feel is the best substitutive for the whatsapp alerts. Yes it is the Dealnloot Messenger Alerts.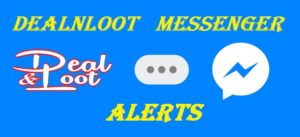 How to Subscribe to Dealnloot Messenger Alerts ?
1. Click Here to go to Dealnloot Facebook Page Chat
2. Just click on Get Started and you will get a welcome message.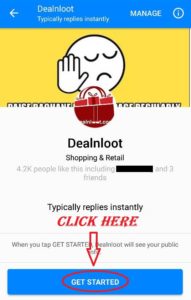 3. Sit back and relax, as soon as we get a loot or steal we will throw it at your Facebook Messenger Inbox instantly
How it works ?
Now there are two use cases of this venture,
Use case - 1
1. You know it very well that we post only the best & selected deals on Dealnloot.
2. But you still like to have the top loots which are assumed to be vanished immediately within few minutes, to be notified immediately so that you can avail that deal.
3. So these alerts are gonna aid you on that because our Dealnloot Bot is going to message it directly on your inbox. And believe us, we never gonna spam , we would send only a maximum of 5 deals a day.
Use case - 2
1. You do remember our whatsapp alerts where we used to send the Deals of the day message which contains the handpicked deals
2. We are gonna do the same in these Messenger Alerts too by sending an overview of the day's best deals in a single message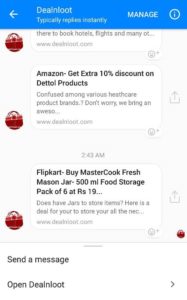 >> Well it's not going to end here, there will be surprise contests and giveaways held exclusively for our Messenger Alerts Subscribers
>> So what are you waiting for, just head to the link above and take a peek into our bot ;)
Unsubscribe / Resubscribe
1. We know it very well that you would never want to miss our alerts but you might be busy somewhere in exams or personal life.
2. In such cases if at all you like to stay away from this online world, you can unsubscribe the alerts just by deleting the chat thread with Dealnloot.
3. We would never disturb you until you get free time and re-subscribe again. Well now doing it is also so simple.
4. Just go to the above given same link and click "Get Started".
Any doubts , queries or suggestions you have ? Drop a comment and we will look into it. Subscribe and stay connected to this online shopping world with Dealnloot :)