Category Archives:
Whatsapp
Dealnloot is the pioneer of Whatsapp Alerts Subscription and we started this new industrial concept in Dec 2015. Since then, many competitive sites started following the same idea. We used to send instant notifications of the great deals and loots and also a Daily Dose of Top Deals. Since time passed by, Dealnloot got so popular with thousands of requests coming for Whatsapp Subscriptions. We were overwhelmed and but unfortunately, the Whatsapp couldn't handle huge broadcast database and our device started creating problems like hanging. That's the reason you are now-a-days receiving less alerts (infact none) in Whatsapp.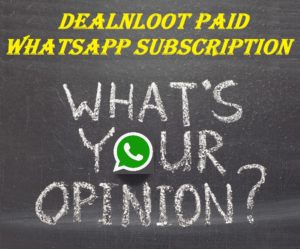 But, we know you people wish to receive alerts there. Continue reading →
Dealnloot  was started in Dec 2014. Our aim is to share the best deals and loots available to make your shopping experience wonderful, we hope we have been successful in that.
However during our journey, we many times realised that it feels very bad when some of you miss out on a loot deal as you were not on dealnloot at that moment.
For eg – Amazon flat Rs 1000 off deal came one night and almost all of you missed on this deal as you were not available on dealnloot that time. However it is very likely that many of use would still be using whatsapp at that time ( Young generations chat till night now-a-days 😆 )
So we have planned that we will be offering whatsapp broadcast alerts to you so that you don't out on any deal at all !!