Google Pay has come with an amazing offer to make this Diwali special for you. It has come up with a scheme in which you need to collect 5 stamps named Diya, Jhumka, Lantern, Flower, and Rangoli. When you collect all 5 stamps, you will get Rs 251 absolutely free added to your bank account. On top of that, you can also get a lucky ticket that can give you Rs 1 lakh. It is difficult to get Rangoli and flower but below in the post, we have added a small trick that will help you to get these stamps of Rangoli and Flower as well.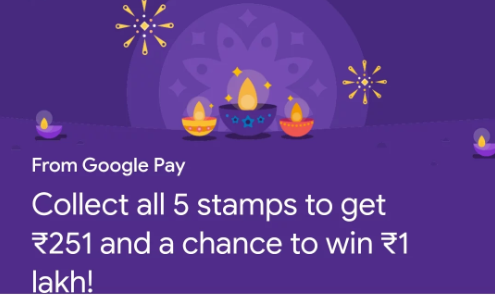 New Trick : UPDATE GOOGLE PAY APP BEFORE TRYING THIS.

Recharge a Videocon D2h for Rs.50 or Dish TV for Rs.35 repeatedly (Until you get). Most of them are getting rangoli during 4th or 5th time. If you don't have videocon d2h, you can recharge to this d2h ID : 160627243 and Dish TV ID : 01519856267 (Note : This is not 100% guaranteed but the chances are higher)
How to Collect 5 stamps and get Rs.251 :
Update your Gpay app to the latest and VISIT HERE
2. You will see the above banner and 5 stamps Jhumka, Flower, Lantern, Rangoli, Diya
3. Collect all 5 stamps by referring your link and gift any excess stamps to your friends/family
4. Done !! You will get Rs.251 after you have successfully collected all 5.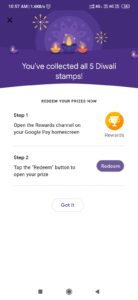 How to get Flower and Rangoli?
1 . Go to your paytm add money or MyAirtelapp (More chances of getting a rangoli in MyAirtelapp)
2. Add money of amount Rs 35-50. Try this 5 times. If in all 4 times, it is unsuccessful, then add place a small order of Rs 40-50 on flipkart/amazon and pay via google pay. You can cancel the order later,
3. Pay using google pay
4. You will most likely get a flower/rangoli
5. I got a flower when paid Rs 35,  a lantern on paying Rs 37 and Rangoli on paying Rs 42. Hurry up!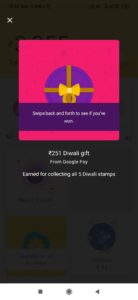 Terms and conditions :
Get an assured ₹251 gift from Google Pay and a Diwali Bonus ticket when you collect all 5 different stamps.

The Diwali Bonus ticket is a special lucky draw ticket on Google Pay that could win you ₹1 lakh. It unlocks on 1 Nov 2019, so stay tuned to find out if you're a winner!

Your earned rewards will appear in the rewards channel.

You can win a maximum of 1 of each prize.

 This offer is not available to residents of the state of Tamil Nadu.

You are not eligible for this offer if you have already earned over 

INR

 9,000 during this current fiscal year (1 April to 31 March) across all Google Pay offers.

Any reward money you earn will be deposited to your 

UPI

 enabled savings account in Google Pay. If you do not link your 

UPI

 enabled savings account to your Google Pay account within 45 days of claiming the reward, the reward will be deemed to be forfeited.

Collect all 5 different stamps by 31 Oct 2019 11:59pm to win prizes.
Stamps are given out randomly. You could get any one of the 5 different stamps through the 3 collection methods.
You can collect up to 15 stamps a day, with a limit of 5 stamps per collection method. The more you pay friends and businesses with Google Pay, the more stamps you collect.