Hello friends, we on dealnloot mostly post regarding shopping deals, coupons, recharge offers and much more but from the past couple of days I have been receiving too many messages on whatsapp broadcast number which says that - Amazon is offering 300 Samsung Curved HD Tvs for free.
So, through this post, we just wanted to inform that this is just a fake promotion. So just stay away from it.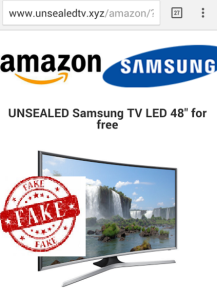 Request - We never ask you to share our posts but we request you to share this post with as many people as you can to spread awareness regarding internet scams.
What is the exact message ?
The exact wordings of the message that is being circulated consistenly on social media is as follows -
Did you heard about amazon? They have 300 Samsung Curved Hd tv's unsealed  that they can't sell,so they are offering them for free. You can claim a free Samsung tv right here: http://www.unsealedtv.xyz/amazon-samsung-tv/  Limited stock so hurry up!!!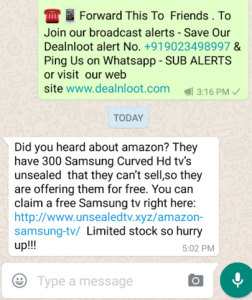 Reasons that we call it fake/scam -
1 . Do you really think amazon can't sell 300 TVs on its own and will giveaway it like that ?
2. Even if Amazon wants to giveaway then they will do it professionally on their own website through some contest like treasure hunt or sweepstakes and not on some unknown domain like unsealedtv.xyz
3. The message has been circulating from past many days but still everytime you open it, they will show you 84 or 94 Tvs left and asking you to claim yours in 3-4 minutes.
4. They ask you to share this message with few friends and that then you will get free TV. But even if you tap on the share via whatsapp button but don't share - You will see that the number of friends shared with would have increased which depicts how fake it is.
5. When you open their website, you will see facebook widget with people comments in which they say that they really got TV. But you will not be able to click on any of those commentator's profile which is never the case with facebook widget. Whenever a website has facebook comment section integrated then you can easily click on profile of people who have commented.
5. Finally their english skills -
a) "Here it's the deal"
b) "offering this tvs for free
c) "they where found unsealed"
d) "online market from India"
All the above lines are grammatically incorrect and A top notch company like Amazon can never make so many mistakes in a single paragraph.
What to learn from this ?
This is not the only message. There are many other fake promotions like - "Modi is giving free internet. Share the message and get 1 GB" and much more.

So boycott these things and yes if you ever receive such message from your friend, explain them about this. Awareness is essential. You can give them a link to this post so that they can understand themselves .