You all know that Dealnloot is famous for its timely posting of deals without missing any single good deal. So this generally increases the number of deals and thereby its a bit time taking for you to go through all of them. We have simplified the best deals with the Selected Deals feature. But there are many people who still have a doubt in their mind that they are missing a deal which is important to them but is not in the 'Selected deals' list. So here is a solution for this issue, its the new "Grid View" feature.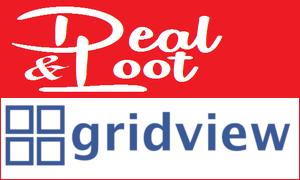 How to use the "Grid View" feature ?
1. Visit dealnloot.com/grid from your browser directly. Bookmark / Add to home screen, for single click access.
2. You can also click on the 'Grid View' present in Top Menu of every page.

3. Just go through the 20 deals that are in a single page and open the deals which you feel that they are good for you.
That's it !! Enjoy this Grid view feature and save your precious time !! :)
What is Grid View & How is it useful ?
1. There are basically two different types of views which you find in various apps and sites i.e., the List View and the Grid View. List view is the serial up to down approach of the information where as grid view is the combination of up-down and side by side approach.
2. Grid view just looks like the images which you see in the gallery and covers maximum information in small place giving just the key contents. The view Dealnloot is currently is the List View which you see when you visit dealnloot.com
3. So in order to get a maximum number of deals in a single page (currently 20 in grid view) with an abstract description of the deals just with the title and introduction, we have added this feature for you.
4. The reasons for which you could use this feature are,
In a hurry and shortage of time as in Exams.
Like that view just with title and short description without any images.
Feel that you could decide which deal is good for you just by having a look on the title.
5. You can clearly see in the image below where you get about 8 deals in a single screen unlike the list view where you see only 1-2 deals.

We hope you will like this new feature and it will make your experience even better with us.  Stay tuned with Dealnloot.