What's the best way to enjoy delicious food at the comfort of your home without spending time in the kitchen or going out to a restaurant? Order Food Online ! Ordering food online without using a coupon is not a good deal. We Never want you to pay full.  Choose your meal from a variety of restaurants online & Order food on the go, wherever you are. Get access to live status updates to track your food from the restaurant to your door. Now save money by using our exclusive deals, discounts, vouchers and coupons. Checkout Best Food & Dining Offers in the post.
Do you feel that sometimes when you need to order food Online, it becomes difficult for you to find the best deal to get some discount or cashback ? We have made it easy as we are here with Best Food & Dining Offers.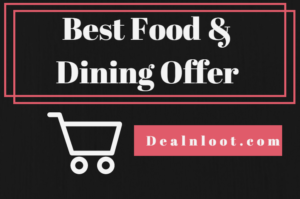 Best Food & Dining Offers
FP100

: Flat Rs 100 OFF On Food Orders on minimum purchase of Rs 300 (New Users, Once per User)

DEL50

:

Get Flat 50% off on 2nd medium pizza of Pizza Hut (Valid on Wednesdays Only)

Click Here: Min. 20% off from Faasos

Offer: Use Code FAS40 on order of Rs 399 & above. Max discount of Rs 160

Click Here: Get flat 25% off from Dunkin Donuts

Offer: 25% off on Classic, Signature Burgers & wraps on orders of Rs. 299 & above| 6 donuts @175

Click Here: Get 20% off from Behrouz

Offer: Use Code FBB20 |Get 20% off on order of Rs. 350 & above. Max discount of Rs. 75
---
NIGHT40: Get 40% off (up to Rs 100) on 1st order. Valid from 10 pm to 3 am in MUMBAI only

NEWMK

:

Rs.75 discount + 50% SuperCash(up to Rs 100 on Payment via Mobikwik). Offer valid from

12PM

-

8PM

on 18 - 19

November,

2017

1st PAYMENT OFFERS:PAYTM: 20% Cashback  on the first Swiggy order paid via Paytm upto Rs 75

MOBIKWIK: 25% Cashback  on the 1st & 3rd Swiggy order paid via Mobikwik up to      Rs 50

FREECHARGE: 25% Cashback  on the 1st & 2nd Swiggy order paid via Freecharge up to  Rs 75
---
WEBFREE

: Rs 150 off + Rs 150 Cashback on Minimum order Rs 300 | New User
HELLOBOX8: Rs.100 OFF + Rs.200 Cashback on Meals, Biryanis, Sandwiches, Wraps and much more. Min Order Amount: Rs.300
HAPPYHOURS: Buy 1 Get 1 Free on Supreme Paratha Wraps, Sandwiches and Salads | 4 - 6 PM Everyday
PAYMENT OFFER:PhonePe: Get 30% Cashback (up to ₹75) on 1st and 3rd transaction/order via PhonePe (UPI, Cards)

PayTM: Get 20% Cashback (up to ₹50) on 1st transaction via PayTM. Minimum Order Amount: Rs 200
---
NWEB50: Get 50% Cashback on First Orders
RWEB20: Get 20% Cashback on All Orders
BIG30: Get 20% Cashback (up to Rs 400) on Min. Order of Rs 999
PAYMENT OFFERS:

Amazon: Get 50% Cashback upto Rs 100 in APay + Use Code AMZ100 to get extra 50% back
---
DIG189

: FREE Mc Aloo Tikki of your choice on order of Rs 189 & above
APP375: Purchase above Rs 375 and get a burger of your choice Free
APP675: Purchase above Rs 675 and get 2 burgers of your choice Free
FF450 - Grab a FREE meal from McDonalds
DIGDESSERT- McFlurry ice cream free on purchase of any medium or large meal with Mcdonalds coupon
PAYMENT OFFERS:

PayTM: Get 10% Cashback upto Rs 50

Freecharge: Get 10% Cashback upto Rs 50

Use Code: FC299  | Get 2 Free McVeggie/McChicken Burgers & a large coke free on orders above Rs. 299
---
PHE01

: Buy 2 Medium Pan Pizzas @ 50% Off( Sig/Sup range only)
WOW50: 50% Discount on Medium Pan Pizzas(Only applicable for Take Away) CD
SCP30: Get 30% off on any Medium Stuffed Crust Pizza CD
---
Get Any 2 medium pizzas worth Rs 305 @ just 199 each
Get Any 2 medium pizzas worth Rs 385 @ 249 each.
Any 2 medium pizzas worth Rs 450 @ 299 each.
Get Any 2 medium pizzas worth Rs 555 @ 399 each.
IN RESTAURANT DEALS:
Get Any 2 medium pizzas worth Rs 440 @ 299 each.
Get Any 2 medium pizzas worth Rs 525 @ 379 each.
---
KFCD02 - Flat 15% Off on Orders of Rs. 450 & Above
Buy 6 Pcs of Smoky Grilled Chicken and get 3 Pcs free on Friday only
Popcorn Chicken at Rs 130. Offer valid on net purchase of food worth Rs 400(excluding Popcorn)
2pcs Hot & Crispy at 110/- on  purchase of Longer, Zinger, Rockin, Crunchy, 5in1 boxes & Rice Bowlz. Offer valid on Dine-in & Takeaway orders only.
12 pc of Boneless Strips Chicken for Rs 350 on Wednesdays only
10 pc of Hot & Crispy Chicken for Rs 500 on Wednesdays only
4 Pc Hot & Crispy, 4 Pc Smoky Grilled and 6 Pc Boneless Strips at Rs 599 (Taxes Extra as applicable).
LOVEZOMATO - Flat 20% Off on Your First App Order (Max 100)
PAYMENT OFFERS:Mobikwik: Use Code KWIK20 | Get

 

50% SuperCashypto Rs 100 | Offer valid from 12PM - 8PM on 18 - 19 November, 2017.
How to avail Best Food & Dining Offers ?
1. Visit Suitable stores from above
2. Login/Register
3. Enter your city and area where you want the food to be delivered
4. Search results will appear, select the restaurant of your choice. Sort restaurants by "Minimum Order Value"
5. Now add food and click on "Proceed to Checkout"
6.Enter your contact details and delivery address and make the payment via suitable methods
Now enjoy tasty food anywhere ! Not only can you order in your favourite pizzas, burgers, biryanis and desserts, but you can also choose cuisines from North to South Indian and from Italian to Chinese or order in from popular chains like Pizza Hut, Dominos, KFC, McDonalds and more !
Guys, if you find any coupon not working, or your favourite working coupon is not listed above, your comments are welcome :D Also if u have any suggestions to make the post better, feel free to comment :)
If you want offers from other companies too, then tell us the name in the comment section.