There was a time when you could skip every ad on YouTube without having to force watch even few seconds. However, times have changed and you are now made to watch at least 10-30 seconds before you can skip an ad. This makes your experience of enjoying the content unpleasant. YouTube has a subscription program - 'YouTube Premium' wherein you don't get any ads and can also enjoy some premium content from YouTube. This costs Rs 129/month. However, today, you can get 3 months of YouTube premium at just Rs 10.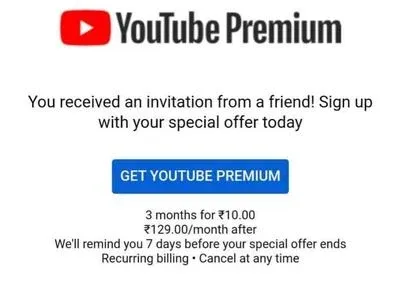 How to get YouTube Premium at Rs 10?
1. Visit here. If this link does not work, copy paste https://bit.ly/3SOIHBg into your browser
2. If you see the offer of Rs 10, then, click on 'Get YouTube Premium'
3. Now add your payment method such as Credit Card
4. Make the payment
5. That's it! Your Premium subscription will be activated for 3 months.
Make sure you cancel the subscription before 8th Jan 2023 in case you don't want to continue at Rs 129/month OR You can cancel the subscription just after the purchase also. It will still be valid till 3 months.
What are the benefits of getting YouTube Premium?
YouTube videos without ads.
Download videos to watch offline.
Background play.
YouTube Original series.
YouTube Music Premium subscription included.
Music on Google Home or Chromecast Audio.