Oneplus is a brand which has been pretty active on social platform and has also been organizing a number of contests like Diwali Dash, December Dash etc. to attract more and more users to buy their devices. They are now back again with another mega contest named "Best Smartphone Contest" under which you can perform small tasks, earn points and get amazon gift vouchers, 10 top users who refer maximum friends get a brand new Oneplus 3T each and some lucky people also get a chance to meet Big B and play a contest to end up getting Rs 1 Crore. Yes, the contest is this huge. So what are you waiting for ? Hurry up and start playing.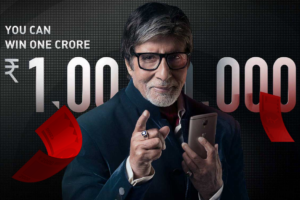 Note - Today is your last chance to redeem points. Be quick enough.
How to play Oneplus Best Smartphone Contest ?
2. Now click on "Enter now"
3. Now create a new account
4. One logged in, you will be asked a very simple question as to which is the best rated smartphone ? Select "Oneplus 3T" as the answer.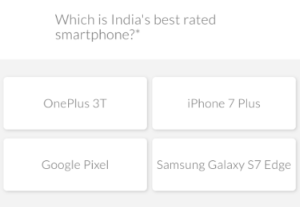 5. You will get your first task to earn 200 points. Click on "Play Now"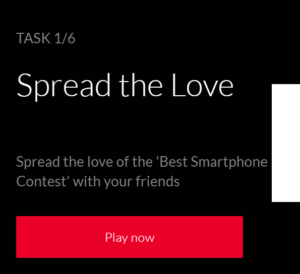 5. Just share this contest on fb/twitter and you will instantly get 200 points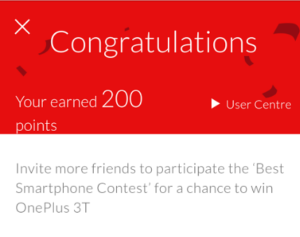 6. New Tasks will be available on 15th March, 22nd March, 29th March, 5th April and 12th April i.e. a new task every week.  The maximum points you can earn on each individual weekly task is 200.
7. Now there are two things you can do with the points you have -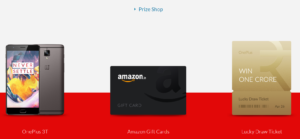 a) Either you can exchange points for vouchers - Redemption shop opens every Wednesday starting 30th March, 2017 and gift cards are up for grabs on first come first serve basis only.
800 points can redeem Rs. 500 Amazon Gift Card;
1000 points can redeem Rs. 1000 Amazon Gift Card;
1200 points can redeem Rs. 2000 Amazon Gift Card or Lucky Draw Ticket.
b) Or you can buy lucky ticket with 1200 points and get a chance to be one among 10 lucky winners to play the end contest to win Rs 1 crore.
Leaderboard Contest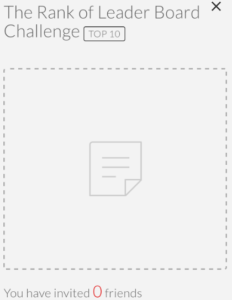 Not only this, you can also refer your friends and top 10 people who refer max people till 19th April will get a brand new Oneplus 3T phone each.
More information about the overall contest
Different stages of the contest are as follows:
March 9th to April 19th- Tasks for lucky draw
April 26th - Announcement of 10 lucky draw winners
April 27th- May 25th- Video shoot of 10 winners
May 26th - June 7th- Voting for videos of 10 winners
June 8th- Announcement of 5 finalists
June 22nd- 5 finalists play the Best Smartphone contest with AB for Rs 1 crore. The winner's names will be published on OnePlus forums and other social media channels on June 22nd, 2017.
PRIZES:
There are multiple prizes that can be won under this contest.
Amazon Vouchers (Rs 500, Rs 1000 and Rs 2000): To be redeemed in the prize shop after collecting a minimum of 800 points.
OnePlus 3T smartphones: To be redeemed by the 10 participants who invite most number of user to participate in the contest.
Lucky Draw Tickets: To be redeemed in the prize ship after collecting 1200 points.
Week
No. of gift cards
Unit Value
Points needed
Total Amount
Week 4
5000
500
800
2500000
Week 5
3000
1000
1000
3000000
2500
500
800
1250000
Week 6
1000
2000
1200
2000000
2500
500
800
1250000
N/A
Lucky draw ticket
1200
N/A
LUCKY DRAW PROCESS
1000 winners will be selected at random through a lucky draw
External agencies will then evaluate their response to the task in Week 6 and shortlist the top 10 winners. Evaluation will be done on an objective 10 point scale basis the following criteria: Language, Relevance and Creativity.
PUBLIC VOTING
The 10 shortlisted winners will be contacted by OnePlus to create videos showcasing a glimpse into their lives. Winners will be asked to authorize OnePlus to document the same and the storyboard and content of the video will be at the discretion of the OnePlus team.
These 10 videos will then be hosted on the microsite and across social media and opened for a public vote.
Voting starts 1st May and closes on 22nd May.
5 winners with the most number of votes on 22nd May will win the golden ticket which entitles them to a direct pass to the 'Best Smartphone Contest' finale and a chance to meet AB to compete for the grand prize of Rs 1 crore.
PRIZE DRAWING:
The drawing for selection of the winners of the Contest will be aggregated at the end of the Contest Period. We will notify the selected participants by e-mail following the draw, and they will be required to share a valid proof of identity and age in the form of a copy of PAN Card / Driving License / Voter ID / Indian passport. A PAN card copy is mandatory for prizes worth INR 10,000 or more.
The selected participants will automatically forfeit their claim to the Prize if they do not meet the eligibility criteria or do not comply with these T&Cs.