Did you take part in yesterday's 10.or E Quiz contest conducted by Amazon? If you missed out, here is another opportunity as here comes a new quiz from Amazon. Yes, it's Quiz Time and Amazon is today asking another 8 simple questions and 2 lucky winners who answer all questions correctly would get a free Samsung Galaxy Note 8 Mobile Phone for absolutely free of cost. So what's the wait for?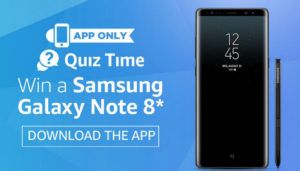 Hurry up and participate now. For your ease, we have also added all the answers for Amazon Samsung Galaxy Note 8 quiz contest.
How to win Samsung Galaxy Note 8 from amazon?
1 . Download Amazon App from here
2. Open the app and you will see a banner about the Samsung Galaxy Note 8 Quiz Time contest. Click on it

3. Now click on the 'Start' button to begin the quiz.
4. You will now see a set of 8 questions about the phone's specifications. Checkout the answers below -

Q1) Galaxy Note8's 'Infinity Display' has full frontal glass and sports an edge screen.
Answer - True
Q2) What is the size of Galaxy Note8's Infinity display?
Answer - 6.3 inches
Q3) Which of these is not a feature of the Galaxy Note8's S-Pen?
Answer - Telekenesis
Q4) Which of these features of Galaxy Note8 allow biometric authentication?
Answer - Iris and Fingerprint Scan
Q5) Which of these is NOT  a feature of Galaxy Note8's camera?
Answer - 3D Printing
Q6) What is the name of Samsung's new virtual assistant that comes pre-loaded on the Galaxy Note8?
Answer - Bixby
Q7) Which of the following features of Galaxy Note8's dual camera allow you to capture pictures, both near and far?
Answer - 2X Optical Zoom
Q8) Which of the following could you use to turn the Galaxy Note8 into a PC like experience?
Answer - Samsung Dex
5. After answering all 8 questions correctly, you will get a Congratulations message that you have been entered into a lucky draw. Now keep your fingers crossed and wait for the results to be announced by 25th September.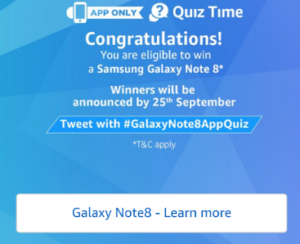 All the best for Amazon Samsung Galaxy Note8 Quiz Results :)
Terms and Conditions
This Contest period is 8th September 2017 from 12:00:00 AM (IST) to 11:59:59 PM (IST)
A user can participate by navigating to the page where 8 (five) questions will be posted during the entire Contest Period.
On answering all the quiz questions correctly, the user will be entitled to a lucky draw which will be carried out amongst participants who have answered that particular question correctly.
A total of 2 (Two) participants will be selected as winners of the Contest by 25th September 2017 who answer all 8 (Eight) questions correctly
The declared winner(s) will be eligible for winning a Samsung Galaxy Note 8 device as a prize.