Buy Socks from a brand like Nike at Discount up to 77%. Buy Nike Men & Women Socks from here and save a lot on this branded shopping.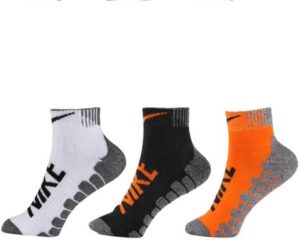 How to Buy Nike Men & Women Socks upto 77% Off?
1 . Visit HERE 
2. Click on "Buy Now"
3. Login/Register into your flipkart account
4. Enter your delivery address and contact details carefully and click on "Deliver Here"
5. Now click on "Continue"
5. You will now be shown different payment options available on flipkart. Select suitable payment option and make the payment or order on Cash on Delivery if available.
That's it !! Sit back and relax. Your order will be delivered to your doorsteps soon. Keep visiting dealnloot for more Flipkart deals, discounts, cashback offers.
Suggestions
Nike Men & Women Ankle Length Socks  (Pack of 3) Rs.599 143
Nike Men & Women Ankle Length Socks  (Pack of 06) Rs.998 287
Nike Men & Women Ankle Length Socks  (Pack of 12) Rs.1996 447