UC News is back once again with another loot refer and earn program and this time the theme is "Cricket". All you need to do is download the app via referral code and you will get Rs 3500 credits. Next, you need to refer your friends till the meter fills up and then you will unlock Rs 8000 PayTM Cash which will be transferred within a month or two.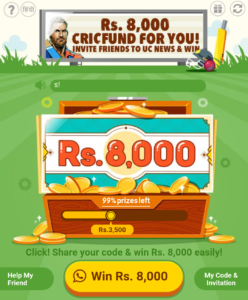 How to earn Rs 8000 PayTM cash from UC news ?
1. Download UC News app from here
2. Now open the app and you will see banner of "Rs 8000 Cricfund". If you don't, then click on "ME" at bottom and there you will see the option
3. Click on "Help my friend" >> Now enter referral code - 10137219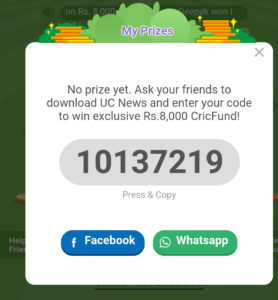 4.Now check your referral code by clicking on "Code & Invitation" and start referring your friends to make the meter full
5. Once it is done, you can redeem your prize by entering your PayTM account details
6. The PayTM Cash will be credited to your account before June 1st.
Enjoy !
Terms and Conditions
March 23, 2017 - March 31, 2017 23:59:59 (IST)
The more friends you invite, the faster you can win your Rs. 8,000 CricFund.
The game will be over on March 31, 2017 23:59:59 (IST).
When your Rs.8,000 is 100% collected, click on "Redeem" button to fill in your personal infomation and get your money.
You can revise your contact information before April 2, 2017 23:59:59 (IST). The prizes delivery will be based on the final submission.
Your contact information will be only used for prize delivery. Prizes will be only delivered to those who submit valid information before April 2, 2017 23:59:59 IST.
Kindly do not uninstall UC Browser or UC News during the campaign.
The Awards will be sent out to the Winners during the period before June 1st, 2017 ("the Delivery period")