TestBook is one of the best apps available in India for preparation of various entrance exams. If you are hunting for jobs and preparing for exams, you would know how important are giving mock tests. However, mock tests are usually expensive. Even at Testbook, if you want a pass for accessing tests of almost all entrance exams, you need to pay Rs 149 per month. But today, as a special offer they are now offering 15-month pass (original cost = 149*15) at just Rs 319 upon which you can avail 10% extra discount to bring down the final price to Rs 287 by applying our referral code. Hurry up and grab this amazing deal now.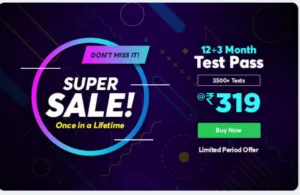 How to get 15 months Test Pass?
1. Download TestBook App from here
2. Login or Signup
3. You will see a banner about the specific offer
4. Apply coupon code - 9BXU3P
5. Make the payment and start giving your tests :)
All the best!!