Vidmate is an app which can be used to download videos from your favorite video streaming websites like YouTube, Vimeo, Dailymotion, Instagram etc. This app has now come up with a super offer in which if you invite friends, you get a chance to claim a prize which can be PayTM Cash from Rs 10-5000 or even a Samsung Phone/Lenovo Laptop. So what are you waiting for ? Hurry up and download the app now and start inviting your friends.
Note - This deal has been verified. We got nothing on first claim and then got Rs 10 on second. 

Update 2 - Don't try this offer now. It is not giving anything now.

Update 1 - We won Rs 1000 PayTM Cash from one of the claims.
How to win PayTM Cash or other prizes from VidMate app ?
1 . Download the app from here
2. Now open the app and install it
3. A video related to movie "Tubelight" will run. You can watch it or skip
4. Now you will be taken to contest page
5. Click on share to get your referral link
6. Share this link with your friends and if they install using this link, you will get 1 claim each.
7. Click on "Claim" button to get your prize which can be anything from 0 to a laptop.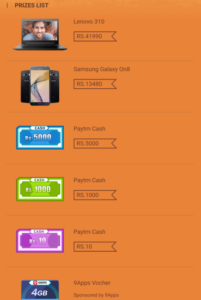 Enjoy !!
Terms & Conditions :-
Duration : June 23 – July 2
You shall be a VidMate user with Indian nationality
You can get more claim chances by inviting your friends to install VidMate.
1 invite gets you 1 claim chance
You can win prizes any number of times