One more crypto loot is live now. now get Get 10000 web3 coin worth 45 $ free (Credit within 48 hours). So, hurry up  as offer may expired at any time.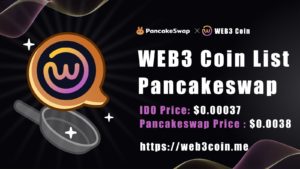 Note - If you are new Trust wallet user, then See the procedure to create account in trust wallet, pls visit here
How to Get 10000 web3coin worth 45 $ free? 
https://t.me/Web3AirdropBot?start=QX3sFcVDV
2- Complete simple task like- Join other telegram group and like twitter etc.
3- Give BSC / BEP20 adress of trust wallet
4- You will get 10000 token worth 45$
5- Now click withdraw
6- You will get token within 48 hours (usually gets within 6 hours)
7- Now add this Contract address on trust wallet-
Network: Binance Smart Chain (BEP20)
Contract: 0xB0F8d835E957cEb92D40FA110c9428440420f061