Here we are back with one more loot. Now Sign up & Get 10 FAT Daily + Extra Rewards. Later this token will be converted in $KACL token and can be sold at exchange. So, Hurry up!!.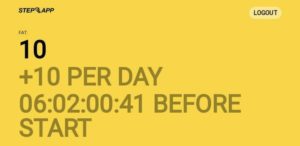 Note- When App will be launch then You can earn daily 2-20$. Do it with unlimited mail ids.
Update- Daily Earning Started Don't Miss Keep Earning Daily Token, Must Open Your Account Once
How to Sign up & Get 10 FAT Daily + Extra Rewards?
1- Visit here
2- Submit Your Email
3- Verify it
4- Now Submit Your Avax Address - (BSC / BEP20 Address From Trust Wallet)
5- Done
6- Do It Unlimited accounts..
7- Huge profit soon
How to Claim?
1. Open https://app.step.app (If you are using mobile device, open it in dApp browser)
2. Make sure you are on Step Network (Steps to add Step Network given bellow)
3. Login if you haven't done already
4. Click on "Connect Waller"
5. You will find a "Claim All" button just below your FAT Points
6. Make sure before claiming that you are using the same wallet which you gave in "Add Wallet" section
7. Click on "Claim All" to claim your FAT
8. Approve the transaction
9- Claim your all token into metamask in step network. 10 FITFI (worth Rs 30) fee will be charged.
How to add STEP network in Metamask?
You need to add the Step network, you can do so by visiting step.network in a dApp browser and clicking on "1-Click Chain Integration". Moreover, the network can also be added manually.
Here the network details:
Network Name : Step Network
Network URL: https://rpc.step.network/
Chain ID: 1234
Currency Symbol: FITFI
Block Explorer URL: https://stepscan.io
If you dont have FITFI fee in wallet?
1- You can transfer FITFI token (22 token worth Rs 60) and AVAX token (as min as transfer 1$. You can take back after trnx) in avlanche network and bridge into step network.
2- You can send FITFI token in step network from directly from Bybit exchange.
You can choose anyone option.

How to bridge FITFI from Avalanche to Step Network for covering gas fees and claim fees ?
➖You can use Bybit to directly send FITFI to Step Network
Or you can withdraw from any exchange via Avalanche C Chain and then bridge it to Step Network using bridge.step.network
✅Guide
https://help.step.app/en/articles/6604004-how-to-bridge-your-fitfi-tokens
How to see FAT in wallet ?
➖Import FAT contract to view it in your wallet:
0x9c9e77BCb667D41ae1e63677f70Efd4681faC9d4

What's next ?
Starting December 1, you will be able to exchange FAT points with lootboxes filled with gems, energy or KCAL
When Claim period ends ?
➖December 31
Proof-