Amazon has a special 'Fun Zone' in their app wherein they keep coming up with exciting quizzes for you to take part in and if you answer all correctly, you stand a chance to win attractive prizes. Today, they have launched another quiz named 'NVIDIA quiz' in which you need to answer 5 questions regarding features of NVIDIA Laptops and you stand a chance to win Rs 10000.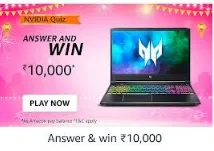 In order to ease your job, we have added answers to Amazon NVIDIA Quiz below:
How to take part in NVIDIA Quiz of Amazon?
1 . Visit this Fun Zone link - It will open up only in the app/mobile site
2. You will now be able to see a banner of 'NVIDIA Quiz' - Answer & Win Rs 10,000
3. Click on this banner and then click on the 'Start' button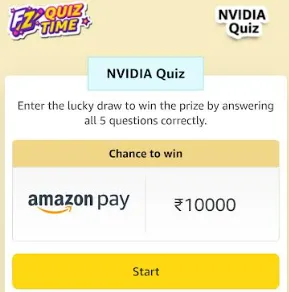 4. You will now see 5 questions one-by-one with 4 options each. Please see the answers to these questions below
Question 1 - NVIDIA MAX-Q Laptops are _______ ?
Answer - Thin, Light & Quiet Laptops with best performance & battery life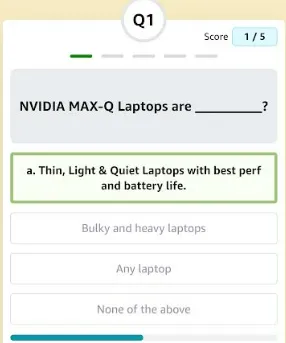 Question 2 - What architecture are current generation(3xxx series) of Notebook NVIDIARTX GPUs called?
Answer - NVIDIA Ampere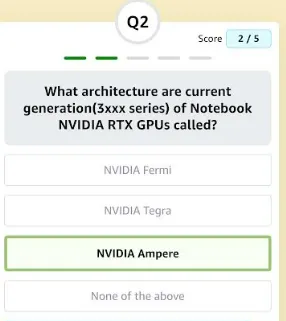 Question 3 - This feature present on GeForce GTX/RTX based Laptops help improve your In Game response time and More wins?
Answer - NVIDIA reflex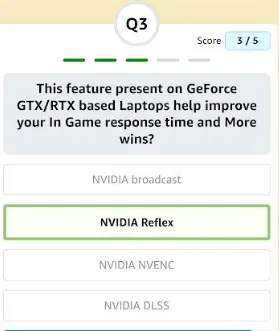 Question 4 - NVIDIA DLSS – Deep learning Super Sampling makes use of _______ technology?
Answer - Artificial Intelligence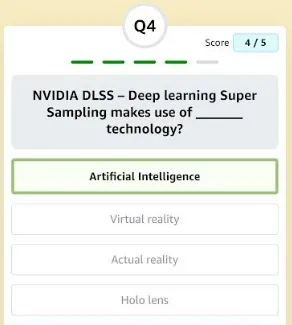 Question 5 - This hardware feature present in GeForce GTX / RTX GPU lets Game and stream at the same time without loss in FPS performance?
Answer - NVENC (NVIDIA Encoder/Decoder)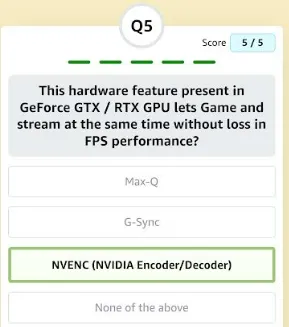 That's it! You have answered five questions correctly for the NVIDIA Quiz and will be entered into a lucky draw to win Rs 10,000. Winners would be announced on 25th October.