Jio is the Trend today and People are ready to do anything to get a Jio sim. The Reason is their Mind blowing offers ! People were not believing about the offers given by Jio at first. But everybody was amazed after its entry.
Such a Response to Jio sim attracted some guys for their Fraudulent activities. Messages are being circulated that you can Get Jio Wifi Device worth Rs 1999 Free of cost. We Just want to say that it is 100% Fake !! They Earn a lot of Money from Traffic & Other Sources for your Valuable Information. Lets See how 🙂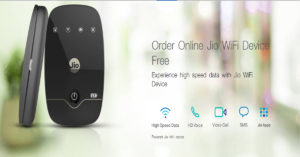 Request – We never ask you to share our posts but we request you to share this post with as many people as you can to spread awareness regarding internet scams.

What is the exact message ?
The exact wordings of the message that is being circulated consistently on social media is as follows –
एक के बाद एक और रिलायंस का शानदार दीपावली ऑफर। 1999 रु का जियो वाई-फाई डिवाइस दीपावली तक बिल्कुल फ्री में मिल रहा है। रिलायंस के स्टोर पर लोगों की भीड़ को देखते हुए ऑनलाइन बुकिंग शुरू की है। नीचे दी गयी वेबसाइट से आर्डर करे।  जियो सिम कार्ड की तरह इस डिवाइस से भी 31 दिसम्बर तक अनलिमिटेड डाटा फ्री में मिलेगा।अब यह 3G और 4G दोनों मोबाइल उपयोगकर्ता के लिए उपलब्ध हे

Visit http://relianc-jio.wifi-buy.in 

Reasons that we call it fake/scam –
1 . Do you really think Reliance can't sell Jio Wifi Hotspots on its own and will giveaway it like that ?
2. Even if Reliance wants to giveaway then they will do it professionally with announcements and advertisements and not on some unknown domain like relianc-jio.wifi-buy.in 
3 – The website maker Feared of any legal risks so he didn't even used the name of Reliance. He made a website with "Relianc"
4 – Not satisfied with the above reasons? You will be shocked to see that on the Domain, you will find "T&C" in very small letters that will lead you to a page that will have their Terms and Conditions. Most of the Users can't see that and will surely Register and give their Information to them. 

It is Clearly written " This offer is not related to Reliance Jio and any other Brands"
What to learn from this ?
This is not the only message. There are many other fake promotions. Nowadays, Most of them are Related to Reliance Jio
So boycott these things and yes if you ever receive such message from your friend, explain them about this. Awareness is essential. You can give them a link to this post so that they can understand themselves .
Why are they doing this ?
The answer is pretty simple – To get people's personal data & to get traffic on their website.
Now the decision is yours – Do you want to be scam-smart and ignore not only this campaign but also others like these or still participate and waste your time/
Thanks people for reading the article. I hope it was helpful. Also please share it with others and make them aware as "The first step towards change is awareness".
" Their Page is even having an Ad so that they can earn more money "