We have been posting for quite a long time about scam websites, fake claims etc which circulates mostly in whatsapp. The only aim of us is to protect you people from wasting your time and more importantly protecting you from providing your information like Mobile number, E-Mail ID to these scam websites which later will be used to spam your mobile inbox and e-mail inbox with unrelated messages.
Once again, a trash message claiming "Free Paytm cash" is circulating in whatsapp for the past few days and you should know that it is FAKE.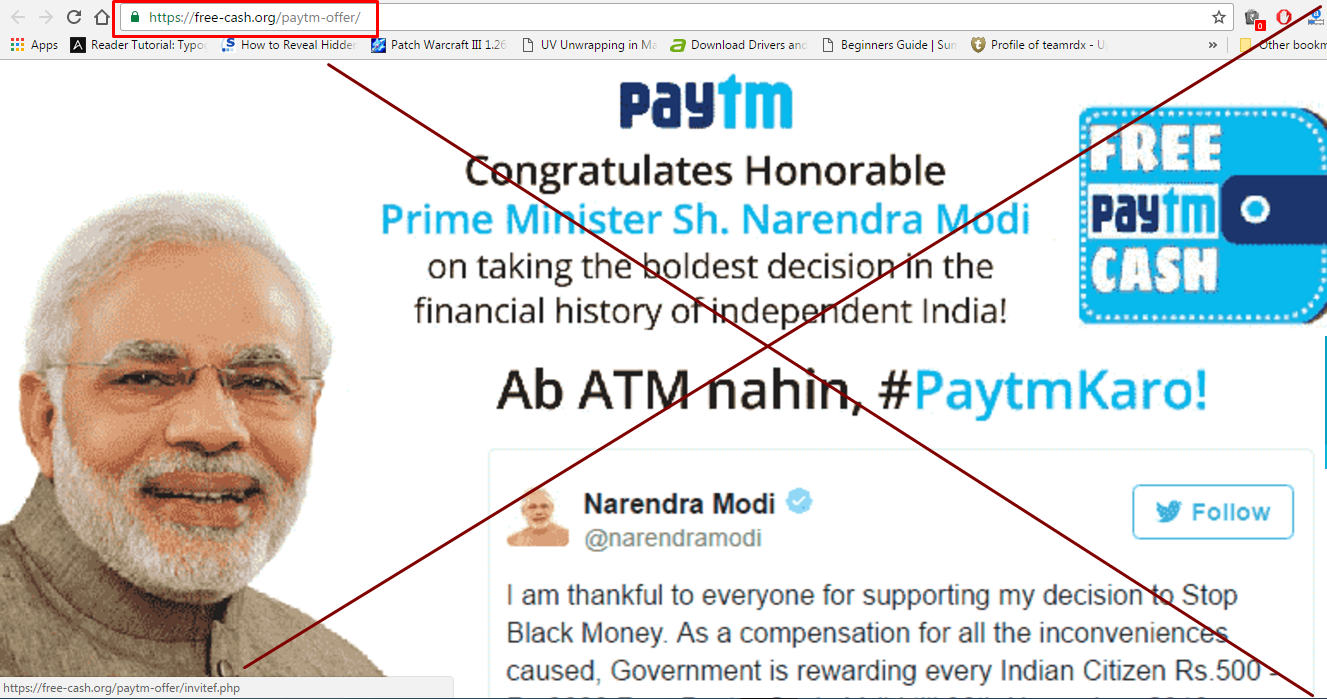 Request – We never ask you to share our posts but we request you to share this post with as many people as you can to spread awareness regarding internet scams.
What is the exact message ?
The exact wordings of the message that is being circulated consistently on social media is as follows –
" Free Paytm Cash! (Rs.1000)
Click : 👉🏻 https://free-cash.org/paytm-offer/ "
Reasons why it is fake/scam :
1 . Have a look at the URL of the website, https://free-cash.org/paytm-offer/. A simple understanding that it is a fake website is by looking into it's URL. Almost 99% of the website with URL like freecash, freemoney are fake. So when you receive a message stating Free paytm cash, mobikwik cash and so on with the above type of URLs, you can conclude it is a fake one.
2 . If you are still not satisfied, just open the link and have a look at the homepage or the entire website. As you see in the above image which is the homepage of that particular website is completely pixelated. A proper or a professional or a genuine website won't use pixelated images which is unprofessional.
3 . In the image, it is shown that Mr.Narendra Modi has tweeted "I am thankful to everyone for supporting……and so on" which is the funniest part of this entire website. 1) He didn't tweet anything like that (You can check his twitter handle @narendramodi), 2) Why would the Prime Minister tweet something like this, that indirectly shows the support towards a particular private company?
4 . If you're still not satisfied, head on to https://who.is/whois/free-cash.org and you can see the website was only Registered on 15.12.2016 (Yesterday). You can also see many information about a proper website like Traffic, rank of the website and many more which this particular scam website does not have.
Why these websites?
It's the same simple answer. They collect the details that you enter in their website and use it for spamming unrelated e-mails and messages to your inbox and also to gain traffic to their website. In this case, they are asking for the Mobile number, so once you enter your number, within few days you will start receiving useless messages to your mobile number.
Just understand how this works and do not forward these kind of messages and make them viral and create more victims 🙂