Shoppers stop ,another ecommerce platform is here with coordination with freecharge to give you some extra cashback's . Shop at Shoppers Stop Store offline and pay using PIN to get 10% instant cashback . Grab it now..!!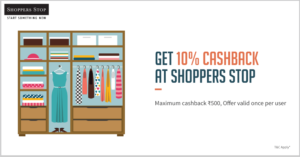 How to get 10% cashback at Shoppers Stop Store ?
1. Visit Nearest Shoppers Stop Store. If You dont know about Shoppers Stop stop Store, Then Please click here
2.  Shop for your favourite products.
3. Mention cashier about mode of payment as freecharge which is available at POS machine and share your freecharge linked mobile number.
4. Open your Freecharge App and Click on "Pay at Merchant".
5. Get OTP and Enter that Pin on POS.
6. That's it. Your payment will be done and you will get 10% cashback (Max Rs 500) as balance in the FreeCharge Account within 24 hours which can be also used for future transactions across merchants establishments accepting FreeCharge as a payment mode.
Terms and Conditions –
This scheme refers to the 'Freecharge 10% Cashback Offer' (Freecharge Cashback offer). The Freecharge Cashback offer is valid on all purchases (discounted as well as fresh stock) from all stores of Shoppers Stop Ltd (SSL) under the name of 'Shoppers Stop' across India including HomeStop, Mothercare (SSL operated stores) and SSL Airport Stores (the said Stores). However, this Freecharge Cashback offer shall not be applicable on any purchases made from www.shoppersstop.com. This Freecharge Cashback Offer is open to all customers (customers) visiting the said stores
All customers can transact at any of the said stores for any amount using Freecharge Wallet as the payment mode & get 10% cashback up to maximum of Rs.500 cashback whichever is less, per customer during SSL End of Season Sale period. For the purpose of this Freecharge Cashback offer, 'Freecharge Wallet' shall mean a pre-downloaded application which is mainly used as a payment wallet
This Freecharge Cashback offer will be valid once per customer during the offer period from 23rd December 2016 to 31st January 2017
Cashback Amount will be in form of e-Voucher and valid for 6 months from the date of credit in Freecharge Account
This Freecharge cashback offer will be valid once per customer during the offer period
The customers will be eligible to get the cashback only for the amount paid using the Freecharge Wallet for the purchases made from the said stores
Cashback will be credited into the Freecharge Wallet of customers as a non-encashable cashback amount within 24 hours from the date of purchase made by the customers as mentioned herein above
The cash back received by the customer under the Freecharge cashback offer and through the lucky draw can be redeemed at any merchant establishment accepting Freecharge Wallet as a payment mode
In case of order cancellation using the Freecharge Wallet, the cashback amount and 10% cashback will be deducted by Freecharge from the total refund due. SSL shall in no way be responsible for any order cancellation refund. However, SSL's standard return policy for its products shall be applicable
SSL's standard terms & conditions – shall be applicable
This Freecharge cashback offer and/ or cash back along with the 10% cashback amount is non-transferable, non-binding and non‐encashable and cannot be substituted for other articles or be returned
Freecharge & Shoppers Stop reserve the right to amend, modify, change, add or terminate (collectively "Changes") all of the terms and conditions contained herein or to replace, wholly or in part, this Freecharge Cashback Offer by another offer, whether similar to this offer or not, or withdraw this Freecharge Cashback Offer without any prior notice
In an event misuse of the Freecharge Cashback offer, identified by Freecharge and SSL, it reserves right to withdraw the Freecharge Cashback offer or cancel the transaction. In this event the user may have to submit documents for proof & identity validation as may be required by Freecharge and/ or SSL
SSL is not making this Freecharge cashback offer, holds no warranty and is not representative nor liable or responsible for the delivery and deficiency in services, suitability, merchantability, availability or quality of the Freecharge Cashback offers and/or products / services under this Freecharge cashback offer
This Freecharge cashback offer is brought solely by Freecharge Payment Technologies Private Limited (Freecharge)
For any issues relating to non-credit of any amount as per this Freecharge Cashback Offer including the 10% cashback shall be taken up directly by the customers with Freecharge. Any issues regarding this Freecharge Cashback offer and /or delivery, service, suitability, merchantability, availability or quality of the Freecharge Cashback offer and/or products/services under this Freecharge Cashback offer and/ or non-credit of cashback or 10% cashback must be addressed in writing, by the customers directly to Freecharge at [email protected] and neither SSL nor its Directors and/or its managers and/or its employees shall not be held liable or responsible for the same or entertain any communication in this regard
The customers shall not hold SSL responsible for and/or liable for any actions, claims, demands, damages, losses, costs, charges and expenses which a customer may suffer, sustain or incur by way of this Freecharge cashback offer
Any disputes arising out of the same shall be directly addressed to Freecharge and the customer submits to the exclusive jurisdiction of the courts of Mumbai only
We reserve the right to restrict cashback for any account with suspicious behaviour or invalid details/credentials, Freecharge has the right to ask for documents to prove his/her identity
We reserve the right to end/modify any or all offers at our discretion without any prior notice