Hi folks, we are delighted to promulgate the celebrations of the 3rd Birthday of Dealnloot which is on 14th Dec 2017. Remember the celebrations that we have did last year ? Well we are going to repeat the same this year too. We have conducted a Housie / Tambola contest on the last birthday and couldn't get a chance to do it again in this 2017. Housie is one of the most liked contests by you and we know you are eagerly waiting to spend some time playing this game with us. So let's take the celebrations to peak with our contests and say "Happy Birthday Dealnloot" in a such a grand way that the vibration goes to every nook and corner of this Internet world 😀
So get ready to sit before your mobiles / laptops on 14th Dec at 7 PM and make prior arrangements like taking an early leave permission from your offices and colleges 😛 . Spread the word to your Friends & Family members for the reason that, what else could be more enthusiastic than playing a Housie with your near & dear.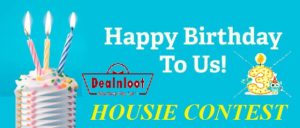 How to play this Housie Game ?
1. Fill this Housie Ticket Form now to request a ticket from us. This form will be valid till 2 PM on 14th Dec after which we close the entries and tickets won't be issued.
Continue reading →