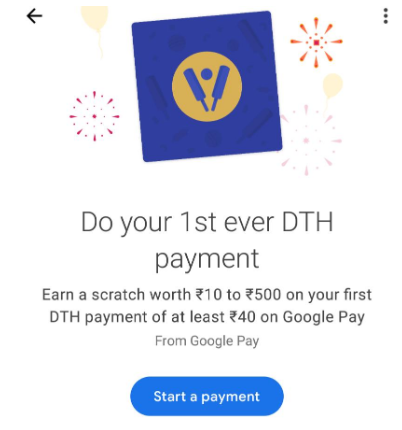 How to Get a Scratch card worth Rs.10 to Rs.500 on 1st DTH recharge orders of Rs.40 and above? :
2. Login/Register for an account
3. Initiate a DTH recharge of Rs.40 or more
4. Make the payment with the available options
5. Done !!
Terms and conditions :
• To participate in a Google Pay offer, you must agree to these offer terms and conditions. • This offer applies to DTH payments made using Google Pay.
• You must have signed up for Google Pay and have not done a DTH payment yet using Google Pay.
• You will earn a scratch card worth between Indian Rupees Ten (INR 10) and Indian Rupees Five Hundred (INR 500) for spending at least Indian Rupees Forty (INR 40) on your first DTH transaction.
• You can earn up to a maximum of one scratch card during the offer period and up to a total of Indian Rupees Nine Thousand (INR 9,000) per financial year (1 April to 31 March) across all Google Pay offers.
• Each Google Pay customer can only use one set of Google Pay credentials that has not been previously registered with Google Pay, which includes but is not limited to a Google Account, phone number, and form of payment, to qualify for each offer.Any of these unique Google Pay credentials must not have been used to register another Google Pay Account.
• If you earn a reward, your reward money will be deposited into your bank account. As such, you must have a UPI-enabled savings account attached to your Google Pay account to receive payment from Google. Please be sure to link your UPI enabled savings account to your Google Pay account within 45 days of claiming the reward, failing which the reward will be deemed to be forfeited.