Hurray !! Dealnloot is presenting its very own first contest where one lucky winner will get free shopping of upto Rs 150 from shopclues. Yes you heard it right – You don't even need to pay a penny for it !!
Shopclues is a very good site when it comes to little household products. However we don't recommend buying highly expensive products from this site.
Result – Congrats Hameed. You emerge as winner of this contest as luck favored you. Please mail us your address so that order can be placed !!
Thanks everybody for your participation !! 
Proof – http://i.imgur.com/ppvSSl3.png
Update – Due to lesser number of participants, we won't take 2 hours to declare the result. Result to be announced at 6:05 pm sharp !! Best of luck to all participants 🙂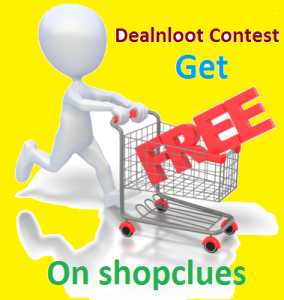 How to participate –
1. Although its not a compulsion but to increase your chances of winning – Like this post on facebook, share it with your friends. Also tweet it on your twitter panel. Facebook share should be public not private or just with friends else it won't be counted.
How chances are increased by doing so ?
(a) For a like on facebook, you get 1 extra entry in the lucky draw
(b) For a public share on facebook , you get 1 more entry. Share should be public not private else it won't be counted.
(c) Tweet about this contest on twitter. This gives you one more entry.
Make sure that you use real names while commenting  here so that we can check whether you have actually done the steps or not !! If you are not comfortable sharing your real name here then you can email us with name o=in your comment and your fb profile link and twitter profile link.
First 20 unique people who comment below get extra 1 entr

y.
Now what to do next ?
As already told, the above steps are not compulsory and will just increase your luck because if you do those, it would mean you bought more lottery tickets so automatically the probability of winning will increase. So its your choice.
Now you just need to click here >> Select any product of your choice upto Rs 150 (shipping included) and post the link of that product in comments. A single user can post maximum 1 link only. So be careful and make your choice carefully. However you can have more than 1 product also but total must be less than Rs 150.
The entry to the contest is valid till 8 Feb 2015 6 pm only. After that the entries would be closed.
Winner announcement

– After the end of contest at 6 pm we will take 2 hours to calculate the number of votes of each person. At 8 pm , we will enter all the entries to lucky draw system using lucky draw app and then will declare the result at 8:15 pm.
The lucky winner will get the product which the link he posted contains.
The order would be placed to the winner's address the same day and will reach him within estimated delivery time. We will make preapid payment so that you don't need to pay a penny !!
Terms and conditions-
1. A single user can post only one product link or more than one product links but total should be less than Rs 150 including shipping.
2. In case the price of the product increases to more than Rs 150 on 8th feb then you need to select spme alternate product costing less than or equal to Rs 150.
So begin the fun now and keep shopping on shopclues !!