HDFC Bank always gives discount, cashback to their credit card users which saves their money. This time , in partnership with Medlife they have come up with an offer where you can get 20% Instant Discount on minimum purchase of Rs 1199. Hurry up!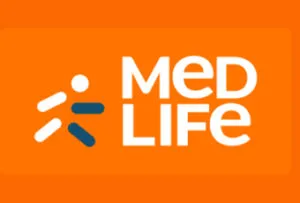 Offer source:- Visit here
How to get 20% Instant Discount on minimum purchase of Rs 1199?
1 . Visit here
2. Login/ Signup into your account.
3. Add medicines to your cart.
4. Enter shipping details, and apply the code- HDFCLIFE20
5. Complete your Payment via HDFC Bank Credit card only.
Terms and conditions:-
The offer is valid till 31st October, 2020.
The offer is valid on Web,App & Msite
The offer is valid for all users
The offer is not applicable on OTC or non prescription orders.
Minimum order value to avail this offer is Rs. 1199
The maximum discount value is Rs. 300
The offer cannot be combined with any other offer or discount.
Medlife reserves the right to pull the offer without any intimation.
HDFC Bank holds out no warranty or makes no representation about the quality, delivery or otherwise of the services offered by The partner. Any dispute or claim regarding the services/offers must be resolved by the Card Holder/s with The partner directly without any reference to HDFC Bank.
HDFC Bank shall not be liable in any manner whatsoever for any loss/ damage/ claim that may arise out of use or otherwise of any goods availed by the Card Holder/s under the said Offer offered by The partner
HDFC Bank shall not be held liable for any delay or loss that may be caused in delivery of the services.
This Offer is made available to the Customer/s selected at the discretion of HDFC Bank.
The offer cannot be combined with any other offer
Any person availing this offer shall be deemed to have accepted these Terms and Conditions.
HDFC Bank reserves the right, at any time, without prior notice and without assigning any reason whatsoever, to add/alter/modify/change or vary all of these terms and conditions or to replace, wholly or in part, this offer by another offer, whether similar to this offer or not, or to extend or withdraw it altogether.
This offer is valid for Indian residents and citizens only.
Delinquent and over-limit HDFC Bank Credit Card members will not qualify for this promotion.
HDFC Bank Cardholders are not bound in any way to participate in this offer. Any participation is voluntary and the offer is being made purely on a best effort basis.
Nothing herein amounts to a commitment by HDFC Bank to conduct further, similar or other offers.
Offer valid only on Retail Credit Cards. Offer not valid on Corporate, Commercial Credit cards. Delinquent cardholders will be disqualified from the said promotion.
This offer is non-encashable, not extendable and non-negotiable.
 If a card member has more than 1 (one) HDFC Bank Credit Card, spends on the cards cannot be clubbed by the card member in order to qualify for the said offer.
In case, the card member holds more than 1(one) Credit Card with HDFC Bank; the card member would need to call up the Customer Call Centre and confirm which card(s) the said offer may be availed for.
The above offer is by way of a special offer for select HDFC Bank Credit Cardholders only and nothing contained herein shall prejudice or affect the terms and conditions of the card member agreement. The terms of the above schemes shall be in addition to and not in derogation of the terms contained in the card member agreement.
All disputes, if any, arising out of or in connection with or as a result of above offers or otherwise relating hereto shall be subject to the exclusive jurisdiction of the competent courts / tribunals in Mumbai only, irrespective of whether courts / tribunals in other areas have concurrent or similar jurisdiction.
Any query regarding the offer will be entertained till 60 days from offer fulfilment date. Post such date; the Bank will not entertain any correspondence or communication regarding this offer from the cardholder.
TAT for posting of CashBack is 96 hours post the completion of purchase of products in accordance with the terms and conditions of the offer. Any advancements in TAT is subjective and will be basis mutual consensus between merchant and The Bank.
Any TAT committed with respect to posting of CashBack for a promotional campaign is only indicative & may vary from the actual date of posting; the Bank shall not be liable for any such delay. However, the Bank shall review the customer's query & if eligible, shall ensure fulfilment is completed at the earliest.
 In case of delay in posting or non-posting of CashBack if applicable for a promotional campaign beyond the committed TAT, customer is requested to contact the Bank; the Bank shall review the same & have the CashBack posted if the customer is eligible as per offer T&C
The offer shall also be governed by such terms and conditions as may be intimated by the partner from time to time.