Are you a movie freak who loves watching movies every now and then and wish you had chance to watch every movie that gets released ? Well, your dream has come true now as you can do this starting from just Rs 499 per month only. Yes, now you can watch unlimited movies on all weekdays of a month at Rs 499 only. If you want the offer to be valid on weekends too, then you got to spend Rs 799 and if you are 2 people. then the rates are Rs 998 and Rs 1598 respectively. This offer is brought to you by CarnivalCinemas and is available at selected locations in India.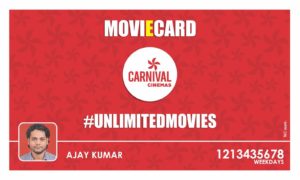 How to watch unlimited movies ?
2.  Select your city from the list displayed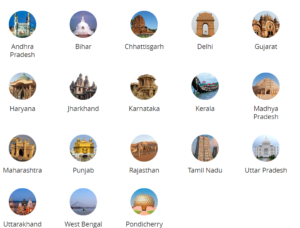 3. Now you will see 4 type of passes
Single person, 1 month, weekdays only – Rs 499
2 people, 1 month, weekdays only – Rs 998
Single  person, 1 month, All Days – Rs 799
2 people, 1 month, All Days – Rs 1598
4. Select the one you like >> Accept T&C >> BUY
5. Login/Signup
6. Update shipping details and make the payment. You will be charged Rs 10 extra in case you need a physical card.
7. Now you will get voucher code and you can use it to book tickets at cinema  counter for free. Also read the below mentioned T&C
Enjoy !!
Terms and Conditions
Cardholder will be entitled to book Cinema Tickets/s at the Cinema Theatre/s during the Validity Period without any payment towards Cinema Ticket, subject to availability of seats. Cardholder shall have to visit the Website for activation of Card.
The Cardholder can book Cinema Tickets only for the Movies to be screened during the Validity Period at the Cinema Theatre/s. Cinema Ticket bookings will be allowed as per the policy of Cinema Operator/s.
The Cardholder cannot book Cinema Ticket/s for the recliner seats, sofa seats and for IMAX Movies.
This Cardholder cannot book Cinema Ticket/s for Movies to be screened on National Holidays.
The Cardholder cannot book Cinema Ticket/s to watch the same Movie title for more than 3 times during the Validity Period.
The Card does not entitle the Cardholder to directly enter the Cinema Theatre. The Cardholder has to obtain a valid Cinema Ticket issued by Cinema Operators for their respective Cinema Theatres.
It is mandatory for the Cardholder to show Cinema Ticket booking details on his/ her Mobile Number (registered with Carnival Cinemas), failing which Cinema Operator will not allow entry in the Cinema Theatre. The Cinema Ticket/s booked can only be utilized by the Cardholder booking such Cinema Ticket.
Such Cinema Ticket cannot be transferred or given to any other person.