The day has has come finally. December 14th – A day when Dealnloot was born two years ago with a motto of helping people to save bucks while shopping online. "Happy Birthday Dealnloot" – This wish doesn't mean only for us. This is for each and everyone of you because Dealnloot is nothing without you and you are also a part and parcel of it. So lets wish each other "Many many happy returns of the day Dealnloot" and start our big celebrations by playing the biggest contest of the week. i.e., The Dealnloot Birthday special Housie Contest. Check how lucky you are and yeah , get the chance to win prizes worth Rs 1500.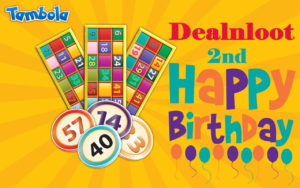 Thanks a lot everybody for your participation. All winners have been announced and they are requested to send an email to [email protected] with Subject "Claim my Prize" and mention what they won. Also include your number to send Paytm Cash/Recharge.

Numbers Declared – 

37, 61, 19, 60, 24, 1, 89, 86, 72, 17, 25, 81, 16, 51, 13, 77, 78, 65, 2, 28, 42, 90, 7, 49, 76, 47, 48, 80, 45, 58, 23, 64, 9, 62, 43, 12, 82, 71, 30, 63, 14, 83, 73, 6, 39, 26, 11, 75, 35, 4, 3, 55, 53, 57, 44, 18, 59, 22, 70, 32, 31, 29, 21, 15, 85, 67, 20, 27, 74, 66, 33

Winners of Housie Contest

Full Housie Winners – Ruhee, irshad, Amar, manish

Fast 5

–

Saurabh, Ankur, Range13

Corners

– 

Himanshu Jain, Piyush jain, Ritik jain

First Line

– 

Himanshu Jain, Nipun, Ruhee

Second Line

– Gurpreet singh, Shagun, Vijay


Third Line

– sagar777, Nitin, Krunal amin

Winners of Quiz

Bonus Quiz Question – Which Indian Cricketer got married most recently ?

  – Winner – 

Saurabh

Bonus Question 2 – What is the tagline of Dealnloot.com ? 

Winner –

Manoj

Bonus Question 3 – Who is known as "Multan ka Sultan" ?

 Winner –

Dev

Bonus Question 4 – Name the app which gave Rs 25 free balance and Rs 100 cashback on transferring money to someone. It is powered by Flipkart. (

Winner –

mus2)

Question 5 – Name any singer (Hindi/Punjabi) who has surname "Gill"

(Winner – Manu)

Question 6 – Name any two actors who have hosted Kaun Banega Crorepati. We will accept their short names also.

(Winner – Rishav)

Question 7 – Name any 3 popular wallets that can be used for shopping or making payments at many merchants

(Winner – Vikas)

Question 8 – What is that Girl Name that losts its image quite a bit due to social media after being called "Bewafa" ?

(Winner – Naushu)

Question 9 – What are the denominations of New Indian Currency Notes launched by RBI ? Just mention the 2 numbers

(Winner – Nirav)

Question 10 – Name any 4 members of Dealnloot Team (Like admin/authors) Names without surnames are allowed

(

Winner – Aditya

)
How to play this Housie Game ?
1. Fill this Housie Ticket Form now to request a Housie ticket from us. This form will be valid till 12 PM on 14th Dec after which we close the entries and tickets won't be issued.

2. You will receive a mail from us within 24 hrs after you fill the form or earliest by 2 PM on the game day. Write it on a paper so that you can easily mark the numbers.
3. Be ready at 4 PM on Dealnloot's Birthday (14th Dec) with the ticket that contain certain numbers from 1 to 90.
4. Each ticket has 3 rows containing 5 numbers each
5. We will start announcing the numbers at exact 4 PM with each new number announced after 1 minute.
6. What you need to do is just check that whether the number announced is there in your ticket or not. If it is there, you are lucky !! Just cut that number from your ticket.
Tip – Make a exact copy of ticket you received on your email id on any paper sheet. Now as the contest starts, take this paper sheet and a pen and start cutting the numbers if they match with what we will announce
What are the prizes ?
A. Fast Five (Rs 100 + Rs 50 + Rs 50)
Two participants whose any 5 numbers of the ticket are cut out firstly will get this prize. First winner will get Rs 100 and second ,third winners will get Rs 50.
B. 4 corners (Rs 100 + Rs 50 + Rs 50)
Each housie ticket contains 4 numbers at extreme positions ( left and right) . 1st and last numbers of top and bottom rows – These are known as corners in a ticket.
Corners does not mean that the numbers should be exactly at the corners. Forget the word corners and just think that they contain,

1. 1st number of 1st row
2. Last number of 1st row
3. 1st number of 3rd row
4. Last number of 3rd row
For eg – See the below ticket

>> In this ticket, 8,66,18,87 are four corners.
3 participants who gets the fastest 4 corners to get cut out wins this prize. First winner will get Rs 100 and second, third winners will get Rs 50.
C. Three rows ( Rs 200 "100+50+50" per row) – Total Rs 600
As we told earlier, each ticket has 3 rows with top row called 1st row, middle one 2nd and bottom one – 3rd.
1st Row (Rs 100 + Rs 50 + Rs 50)
Three participants whose all the number in the 1st row are cut out fastest wins this prize.
For eg – In the ticket above, numbers –8,10,42,50 and 66 are of 1st row.
2nd Row (Rs 100 + Rs 50 + Rs 50)
Three participants whose all the number in the 2nd row are cut out fastest wins this prize.
For eg – In the ticket above, numbers –24,34,68, 72 and 81  are of 2nd row.
3rd Row (Rs 100 + Rs 50 + Rs 50)
Three participants whose all the number in the 3rd row are cut out fastest wins this prize.
For eg – In the ticket above, numbers –18, 36, 48, 53 and 87 are of 3rd row.
D. Full housie (Rs 200 + Rs 150 + Rs 100 + Rs 50)
Well this is the grand prize !!
Four participants whose all numbers are cut out at the earliest wins this prize. Prizes will be sent directly to the number and the Payment Preference which you have filled while requesting the housie ticket.
How to claim housie prize ?
1. As soon as you reach any of the prize you need to claim it immediately in the comments by writing that you have completed this task along with your Ticket Number mentioned on the housie ticket which we send to you.
2. We will immediately check it and if you are right then you will be announced winner but if your claim goes wrong, you will be disqualified whether it was intentional or not.
3. There might be a chance that two participants reach the same milestone at same time then that participant will be declared winner who comments and claims first !! So you need to be fast to claim your prize 🙂
So get ready to witness the fun !! Claim your housie tickets now !!

Terms & Conditions

1. Don't try to fill the form with fake / multiple entries to get more tickets else you will be directly disqualified without further chance
2. You have to request for ticket before 12 PM today else ticket won't be issued
3. A single user can get a single ticket only
4. Once you claim for prize in Housie contest and if your claim is wrong, you will be disqualified from playing further in the contest
5. Under any circumstances, the decision of Dealnloot is final and Dealnloot has the right to change the terms at any time without prior notice.