Hi folks, we are delighted to promulgate the celebrations of the 3rd Birthday of Dealnloot which is on 14th Dec 2017. Remember the celebrations that we have did last year ? Well we are going to repeat the same this year too. We have conducted a Housie / Tambola contest on the last birthday and couldn't get a chance to do it again in this 2017. Housie is one of the most liked contests by you and we know you are eagerly waiting to spend some time playing this game with us.
So let's take the celebrations to peak with our contests and say "Happy Birthday Dealnloot" in a such a grand way that the vibration goes to every nook and corner of this Internet world 😀 So get ready to sit before your mobiles / laptops on 14th 15th Dec at 6 PM and make prior arrangements like taking an early leave permission from your offices and colleges 😛 . Spread the word to your Friends & Family members for the reason that, what else could be more enthusiastic than playing a Housie with your near & dear.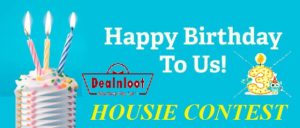 Winners of Tasks

are requested to send a mail to [email protected] with their

Paytm Number

& subject "Housie Contest Task Winner" from the same mail ID used to comment.

Housie Winners will directly get rewards

to the number mentioned while filling the form.

We have Treasure Hunt Contest tomorrow (16th Dec) at 6 PM. Don't forget to participate 🙂
Task 2

– Write "Happy Birthday Dealnloot" on a paper, click a picture of it and share it here.
How to upload an image – Visit ctrlq.org/images >> Upload Picture (Select image & upload). Copy the "Image Embed code" and paste it here in comments.
All eligible comments before 8 PM will win Rs 30 each.


Winners –

Chirag, Tushar Bajaj, Prem, Amit Meena, Vikas, arjun, Dev, Rohit Kumar Pandey, Rajasekar, Sundar, Parth, Nisha, Manu, sahana, kadiyala praveen, Satish, Sakshi Aggarwal, Naushu, Golu, Rishabh, Vikram

(21 winners)

Task 1-

Say "Happy Birthday Dealnloot". The 1st, 5th, 10th, 15th & 20th comments will win Rs 30 each.


Winners –

Vikas, Tushar Bajaj, sumanth, Harshit Singhal, Akshay

Special Task Winners –

Sundarasami P, Rishabh, Kausalya, Subesh
Numbers announced – 81, 55, 68, 10, 69, 17, 52, 87, 82, 70, 35, 46, 84, 23, 19, 61, 36, 26, 76, 47, 4, 12, 24, 85, 67, 65, 37, 83, 60, 45, 22, 33, 41, 63, 34, 25, 39, 64, 78, 48, 73, 80, 15, 54, 6, 1, 18, 14, 27, 13, 51, 11, 5, 43, 62, 77, 49, 40, 88, 16, 58, 72, 56, 31, 8, 29, 71, 7, 30, 74, 20, 3, 59

Housie Winners
Fast Five (1st-Sahana 547, 2nd-Rajashekar 222, 3rd-Manju Sethi 573) –

All Claimed
Four Corners (1st-Rohit Kumar Pandey 69, 2nd-Mukund Manohar 504, Rakesh 468) – All Claimed
1st Row (1st-Vikram 118, Apoorv Rawalgaonkar 49, Neha 73) – All Claimed
2nd Row (1st-Lakrusha 676, 2nd-Suresh 609, 3rd-Aman Goyal 209) – All Claimed
3rd Row (1st-Rakesh 468, 2nd-Neha 73, 3rd-Akshay 343) – All Claimed
Full Housie (1st-Tushar Bajaj 64, 2nd-Pritam Puthal 630, 3rd-Paritosh Soni 108, 4th-Manu 202, 5th-Mukund Manohar 504) – All Claimed
Special Unlucky Prize – Nil

Special Task (14th Dec) – The most funny & illogical answer (Over Now)
One of our team members, Mr. Undergrounded asked me a question "If earth is 4.54 billion years old, then how can we be in 2017 ?" . Then I answered it this way –
Billion = 10,00,00,00,00,000 means twelve 0's and one 1.
Now 4.54 billion = 4.54 –> Move decimal once right because we got 'one 1' above, i.e, 45.4
Since we have twelve 0's, do 45.4*12=544.8
Now in 45.4 after decimal digit is, 4. So multiply 544.8*4 = 2179 (round off)
As we used round off above, so put a round (zero) in between 2179 i.e., 20179
But 9 is my lucky number so I have stolen it. Final output is 2017.
So you have to answer the below question in the same funny, unique & creative way and which has no logic at all. Four best answers will win Rs 50 each. Answers are considered till 6:10 PM , 15th Dec.
Your Question – If Birthday means celebration of 1 year, whereas an year can be 365 days or even 366 days if it's a leap year. Then why birthdays are celebrated on same date every year ?
How to play this Housie Game ?
1. Fill this Housie Ticket Form now (Closed Now) to request a ticket from us. This form will be valid till 5 PM on 14th Dec 15th Dec after which we close the entries and tickets won't be issued.
2. You will receive a mail from us within 24 hrs after you fill the form or earliest by 5:30 PM on the game day. Write it on a paper so that you can easily mark the numbers.
3. Be ready at 6 PM on 14th Dec 15 Dec with the ticket that contain certain numbers from 1 to 90.
4. Each ticket has 3 rows containing 5 numbers each
5. We will start announcing the numbers at exact 6 PM with each new number announced after 1 minute.
6. What you need to do is just check that whether the number announced is there in your ticket or not. If it is there, you are lucky !! Just cut that number from your ticket.
Tip – Make a exact copy of ticket you received on your email id on any paper sheet. Now as the contest starts, take this paper sheet and a pen and start cutting the numbers if they match with what we will announce
What are the prizes ?
A. Fast Five (Rs 100 + Rs 50 + Rs 30)
Two participants whose any 5 numbers of the ticket are cut out firstly will get this prize. First winner will get Rs 100 and second ,third winners will get Rs 50 & Rs 30 respectively.
B. 4 corners (Rs 100 + Rs 50 + Rs 30)
Each housie ticket contains 4 numbers at extreme positions ( left and right) . 1st and last numbers of top and bottom rows – These are known as corners in a ticket.
Corners does not mean that the numbers should be exactly at the corners. Forget the word corners and just think that they contain,

1st number of 1st row
Last number of 1st row
1st number of 3rd row
Last number of 3rd row
For eg – See the below ticket

>> In this ticket, 8,66,18,87 are four corners.
3 participants who gets the fastest 4 corners to get cut out wins this prize. First winner will get Rs 100 and second, third winners will get Rs 50 & Rs 30.
C. Three rows ( Rs 200 "100+50+30" per row) – Total Rs 540
As we told earlier, each ticket has 3 rows with top row called 1st row, middle one 2nd and bottom one – 3rd.
1st Row (Rs 100 + Rs 50 + Rs 30)
Three participants whose all the number in the 1st row are cut out fastest wins this prize.
For eg – In the ticket above, numbers –8,10,42,50 and 66 are of 1st row.
2nd Row (Rs 100 + Rs 50 + Rs 30)
Three participants whose all the number in the 2nd row are cut out fastest wins this prize.
For eg – In the ticket above, numbers –24,34,68, 72 and 81 are of 2nd row.
3rd Row (Rs 100 + Rs 50 + Rs 30)
Three participants whose all the number in the 3rd row are cut out fastest wins this prize.
For eg – In the ticket above, numbers –18, 36, 48, 53 and 87 are of 3rd row.
D. Full housie (Rs 200 + Rs 150 + Rs 100 + Rs 50 + Rs 30)
Well this is the grand prize !!
Five participants whose all numbers are cut out at the earliest wins this prize. Prizes will be sent directly to the number and the Payment Preference (Paytm / Recharge) which you have filled while requesting the housie ticket.
E. The Special "Unlucky" Prize (Rs 50 + Rs 30)
Are you so unlucky that you have got 5 or less numbers cut even after the whole game ? 😛 . Well then you are not unlucky anymore . After we have announced the completion of the game, the first 2 members to claim their special unlucky ticket (<=5 cut) will get a prize of Rs 50 and Rs 30.
How to claim housie prize ?
1. As soon as you reach any of the prize you need to claim it immediately in the comments by writing that you have completed this task along with your Ticket Number mentioned on the housie ticket which we send to you.
2. We will immediately check it and if you are right then you will be announced winner but if your claim goes wrong, you will be disqualified whether it was intentional or not.
3. There might be a chance that two participants reach the same milestone at same time then that participant will be declared winner who comments and claims first !! So you need to be fast to claim your prize 🙂
So get ready to witness the fun !! Claim your housie tickets now !!

Terms & Conditions

1. Don't try to fill the form with fake / multiple entries to get more tickets else you will be directly disqualified without further chance
2. You have to request for ticket before 5 PM, 14th Dec 15th Dec else ticket won't be issued
3. A single user can get a single ticket only
4. Once you claim for prize in Housie contest and if your claim is wrong, you will be disqualified from playing further in the contest
5. Under any circumstances, the decision of Dealnloot is final and we have the right to change the terms at any time without prior notice.