Amazon is conducting another quiz today in which you can win a free Rockjam Piano Keyboard for absolutely free of cost. All you need to do is answer 5 simple questions. A total of 15 winners will be declared in this Amazon Rockjam Piano Keyboard Quiz Time Contest.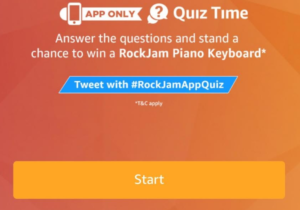 We have also added all the answers below for you to checkout. Hurry up and participate now.
How to win Rockjam Piano Keyboard from amazon ?
1 . Download Amazon App from here
2. Open the app and scroll down to view a banner about quizzes
3. Now click on the 'Start' button to begin the quiz.
4. You will now see a set of 5 questions. Checkout the answers below –

Q1) Which of these is not a genre of music?
Ans – Umami

Q2) Which of these accessories are NOT included in-box with the RockJam RJ 761 Piano Keyboard?

Ans – Dumbbells

Q3) Which famous composer wrote the songs 'Fur Elise' and 'Moonlight Sonata'?

Ans -Beethoven
Q4) Which of these is NOT a feature of RockJam RJ 761 Piano Keyboard?

Ans – Time Travel
Q5) Which of these Indian musicians has received a Grammy award?

Ans – A.R. Rahman
5. After answering all 5 questions correctly, you will get a Congratulations message that you have been entered into a lucky draw. Now keep your fingers crossed and wait for the results to be announced by 31st January 2018
All the best for Amazon Rockjam Piano Keyboard Quiz Results 🙂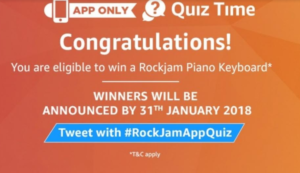 Terms and Conditions
This Contest period is 1st Decembern 2017 from 12:00:00 AM (IST) to 31st Dec 2017 11:59:59 PM (IST)
A user can participate by navigating to the page where 5 (five) questions will be posted during the entire Contest Period.
On answering all the quiz questions correctly, user will be entitled for a lucky draw which will be carried out amongst participants who have answered that particular question correctly.
A total of 15 participants will be selected as winners of the Contest who answer all 5 (Five) questions correctly by 28th Feb 2018
The declared winner(s) will be eligible for winning Rockjam Piano Keyboard for free