Everyone should have tried "Spot the Santa" contest during the Christmas week from Vodafone and should have won Free data. They are once again back with a similar kind of contest named "Hunt the Hearts" on the occasion of Valentines day where you can win upto 1.7 GB data free by hunting the hearts.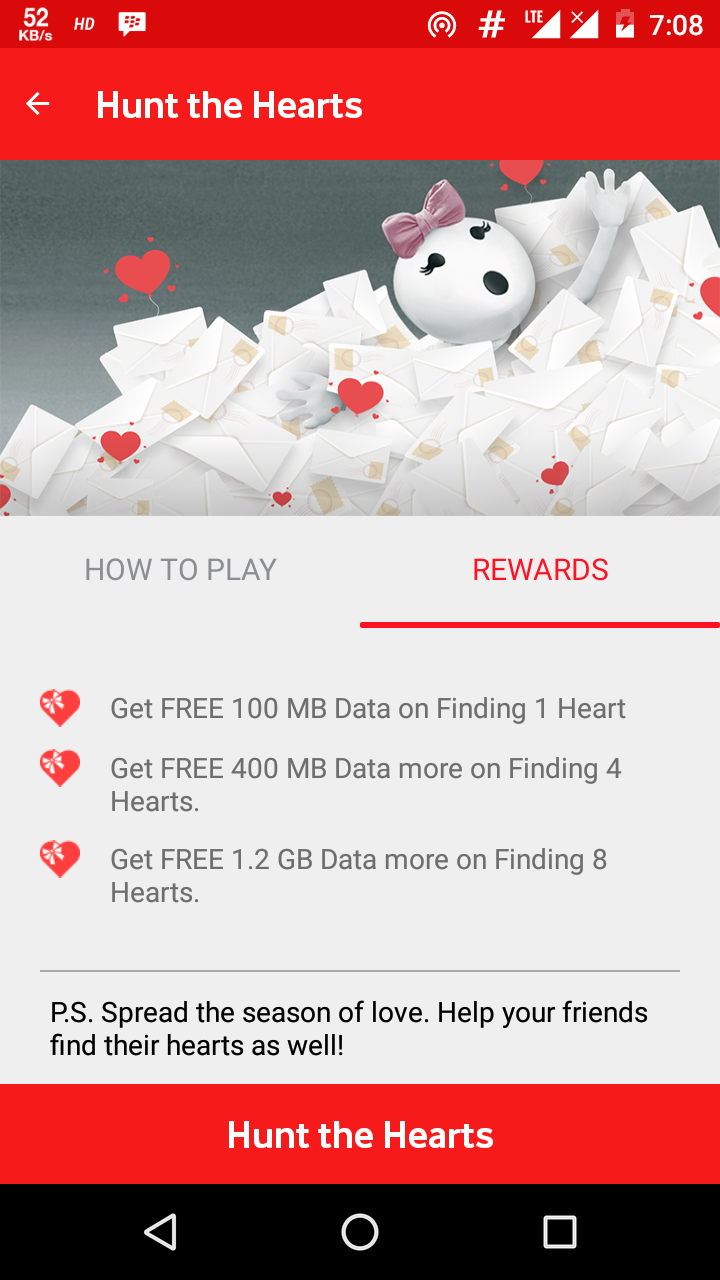 How to get Free data upto 1.7 GB by playing Hunt the Hearts? :
1 . Download MyVodafone app from HERE or update it if you already have it installed
2 . Register/Login with your vodafone number
3 . Click on the Banner saying "Hunt the hearts" and start playing
4 . Search all screens of the app and tapping on the envelope will reveal your gift
(Some Heart Envelope will appear only on special days, So keep your eyes open)
5 . Done !! Data you won will be credited in 24 to 72 hours.
Heart Envelope locations :
1 . Click on the Menu option from the top left and select "Shop" option and click "Search" tab and you will find the envelope at the bottom right corner
2 . In the Homescreen itself, you will see "Amazing offers for you", click on it and at the bottom right corner you will find the envelope
3 . Once again click on the Menu option and select "Roaming" option and select "Within India" and you will see the envelope on the bottom right hand corner
(Thanks Kumar Bittu, Debashis Mondal and Vasanth for sharing the rest)
(Go through the comments section at the bottom of this page to discuss the Answers)
4 . Check the balance transfer page
5 . In the main balance page. Just tap on the balance on the front page.
6 . In the internet page, Just tap on the buy data on the front page.
Terms and conditons :
Get Free 100 MB data on finding 1 heart
Get Free 400 MB data more on finding 4 hearts
Get Free 1.2 GB data more on finding 8 hearts
Applicable only on MyVodafone app