Vishal Mega Mart , a greatly known store is here with an offer in co- ordination with freecharge where you can get flat 30% cashback on paying via freecharge wallet . Freecharge is expanding its empire day by day and hence coming out with these offers , Must use them !!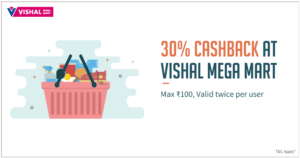 How to get 30% cashback at Vishal Mega Mart ?
1. Visit your nearest Vishal Mega Mart
2. Now, Load money in your FreeCharge Wallet (Visit here or Download Freecharge app – Android I iOS I Windows)
3. Click on Pay Merchant to generate your #OnTheGo Pin.
4. Enter your Mobile number & OnTheGo Pin on the EDC machine/Card swipe machine at Haldiram's and pay the bill. Thats it !!
Bingo !! You will get 30% cashback in your wallet on completing your transaction 🙂
List of Outlets:-
| City | Address |
| --- | --- |
| Badarpur Delhi | I-41,Kh.No.665 & 681/1, Main Jaitpur Rd.,Hari Nagar Ext, Badarpur New Delhi-110044 |
| BADSHAPUR | KHASRA 95/13, VILLAGE BADSHAPUR, TEHSIL AND DISTRICT GURGAON |
| BHANGEL NOIDA | City Tower Kh.114/2,R.R Shopix, Bhangel,TO Sec.110 Rd, P.O. Gheja Ph.II, Noida ,PIN: 201304 ,PIN: 281001 |
| BURARI | Kh.No.122/15/1/1 & 122/6/2 Burari,Burari,Delhi |
| DEVLI ROAD | Khasra No.436-437,Khanpur, Devli Road New Delhi(110062) |
| DUNDAHERA | Plot No. 420, Old Delhi-Gurgaon Road, Dundahera Village |
| DWARKA | Plot No.E-546,47,48,49 Harijan Basti, Palam Ext. Sec-7 Dwarka N.D (110075) |
| FARIDABAD | PRISTINEMALL'N'MULTIPLEX,SECTOR-31,FARIDABAD |
| FARIDABAD2 | House no 1-C-52,1C-51 AND 1-C77 NIT FARIDABAD,HARYANA |
| GHAZIABAD1 (SC) | 6/3,SOUTHSIDE,GTROAD,SILVERCITYMULTIPLEX,LALKUAN,GHAZIABAD |
| GHAZIABAD4 (SN) | PLOTNO-16,SEC-23,SANJAYNAGAR,GHAZIABAD |
| GHAZIABAD5 (RN) | FLNO-27,SEC-5,RAJENDRANAGAR,GHAZIABAD |
| GOVINDPURI | MCD NO.1679-D/1 AND 2/1679, KHASRA NO.19, GALI NO.2, GOVINDPURI EXTN, NEW DELHI |
| GURGAON 2 | Khata No.744/808,750/15,731/795, Killano26/2-26/4Vill.Kadipur,Khandsa Rd.-122001 |
| Gurgaon-1 | SCO.9,10,11&12NEARPAYALCINEMA.SEC.14 |
| KAROL BAGH | 10,209-10210PADAMSINGHRAOD,KAROLBAGH-N.D-5NEARPIZZAHUT |
| KHODA | Plot No-72A-75A Deepak Vihar Main,Rd. Khoda, Dist.Ghaziabad, UP,PIN: 200301 |
| MAHIPALPUR | KHASARANO735L10MAHARAULIROADMAHIPALPUR |
| MANGOLPURI | Kh.No.350-361 To 361 Min.,Mangol Pur Khurd Delhi |
| NANGLOI | KhasraNo.31/20,31/21,32/25/2&32/16,VillageNangloi |
| NARELA | KHNO42/9&10/2GAUTAMCOLONNARELA |
| NAZAFGARH2 | Kh. No.18/7/2,Chara Mandi Najafgarh New Delhi |
| NEB SARAI | Khasra No-110-111, Neb sarai Ignou Road New Delhi- 110068 |
| PITAMPURA | FD-7,OPP.METROSTATTION,PITAMPURA, |
| RAJOURI GARDEN | J-1/162-B,RAJOURI GARDEN |
| SHAHDRA | Airplaza Retail Holdings Pvt Ltd, C-426-100 Ft. Road, Chajju Colony,Shahdra |
| TILAK NAGAR | 1/1GFTILAKNAGAR, New Delhi(110018) |
| UTTAM NAGAR | G-1/156, OPP.STATE BANK OF INDIA NEAR METRO PILLER NO.677 |
| VAISHALI (ANSAL PL) | GSR26-33&UGSR22-27,ANSALPLAZA,OPP:DABURCHOWK,VAISHALI,GHAZIABAD |
| VIKASH PURI | Property No.24, Block C, Vikaspuri, New Delhi (110018) |
Terms & Conditions:-
Transact at Vishal Mega Mart using Freecharge Wallet & Get 20% cashback upto Rs.100 per transaction
Offer valid once per user
Cashback offer valid till 30th September 2016
On successful transaction customer gets cashback as balance in the Freecharge Account within 24 hours which can be used for future transactions across merchant establishments accepting Freecharge as a payment mode
Cashback Offer is valid on purchase of all products available at Vishal Mega Mart paid via Freecharge Wallet
The entire invoice value has to be settled using Freecharge Wallet, partial payment not allowed
Cashback Amount will be in form of e-Voucher and valid for 6 months from the date of credit inFreecharge Account