Are you always confused while shopping for clothes, footwear and accessories in thinking that the particular product will suit you or not ? Is that the reason you sometime hesitate to buy some product and hence end up making wrong choices ?  Well Myntra new "Try and Buy" has all the answer for your doubts. Myntra introduced this very cool features where you can order anything on Myntra and will pay for the order only after trying the same in-front of the delivery person. This service will cost you Rs 99 but as introductory offer you can enjoy this feature for free. So select you cart and pay only after trying.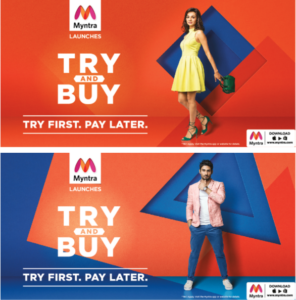 How to avail this feature ?
1- Visit Myntra website or Download Myntra App. 
2. Select your product and add to cart.
3. Login/Register
4. Enter your address and contact details carefully
5. Select Try and Buy at checkout.
6.That's it. You will soon receive your Products.
7. There agent will wait for you while you try the selected item.
8. Pay and keep the item if you like else return the product.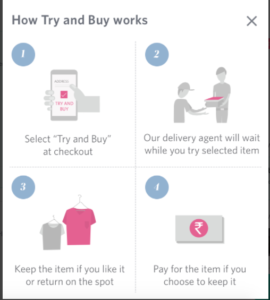 Terms and conditions :-
This service entitles you to try-out your purchases at the time of delivery, pay only for what you like and return the rest on-the-spot.
Try and Buy service is available on most of the products, you can enter pincode on product page to check service availability.
Currently this service is available in Bangalore, Delhi-NCR, Chennai, Kolkata, Hyderabad, Pune, Jaipur, Ahmedabad, Lucknow, Guwahati, Surat, Patna, Goa, Dehradun, Indore, Ludhiana, Chandigarh, Nagpur, Bhopal, Ranchi, Vadodara, Vishakapatnam, Mysore, Kanpur, Jalandhar, Varanasi, Kota, Meerut, Bhubaneshwar, Jamshedpur and Kochi.
Try and Buy is only available on orders containing <=3 items in cart. There is no minimum order value to avail the service. However, for orders below Rs. 999, shipping charges will be levied as per our shipping policy.
To avail the service, please ensure that you tick the 'Try and Buy' box on check-out page and choose delivery address where you are comfortable trying product.
Try and Buy will not be available during big sale days; We will re-offer the service, post such events.