Little App has surely become a name which is now very famous among youth, children and old as it caters to needs of everyone by providing deals on restaurants, clubs, amusement parks, travel and much more. It has come up with a superb referral program from 9-15th Jan in which you get double rewards on referring friends i.e. 2 vouchers of 25% off. Not only this, if you refer 5 friends, you get a couple fine dine voucher and on referring 30 friends, you get an assured 2 Nights/3 Days Club Mahindra Holiday Voucher of places like Goa, Manali etc. So what are you waiting for ? Hurry up !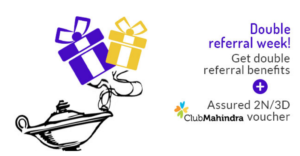 Note – The referrals will be counted from 9th Jan-15th Jan for giving the prizes like Dinner Voucher, Holiday Voucher.
How to earn free vouchers, dinner, holidays ?
1 . Download Little App from here – Android | iOS
2. Now open the app and enter your mobile number and in referral field column, enter – REFR18372
3. Now verify your mobile number with one-time password
4. That's it !! Your account will be created now and credited with 25% off voucher. You can buy some amazing deals at 25% off (upto Rs 125) in addition to already discounted prices.
Suggestions –
Dominos Pizza Rs 500 voucher at Rs 300
PVR Bluo Bowling Game & Pepsi Rs 420 232
PizzaHut Rs 500 voucher at Rs 300
5. Now click on top right three dots >> "Refer Friends"
6. You will see your referral code starting with REFR >> Share this code with your friends
7. If your friend signs up for first time on little app using your code, he gets 25% off voucher. You also get the same once he purchases any deal and since it is a double referral week, you will get 2 of such vouchers by 19th Jan 2017
There's More!
Not only,, you get discount vouchers but also exciting gifts like Dinner Voucher for 2 people, an open gift voucher of little app worth Rs 1000 & an assured FREE 2 Nights/3 Days holiday voucher of Club Mahindra.
5 Referrals – Couple Fine Dine Voucher
10 Referrals – Open Voucher worth Rs 1,000
30 Referrals – Assured Free 2 Nights/3 Days Holiday Voucher of Club Mahindra