Snapdeal sometimes offers steep discounts on clothing section and this time again it is offering Women Kurtas of brand Shakumbari at more than 90% off. There are only a few options availabl. Hurry up !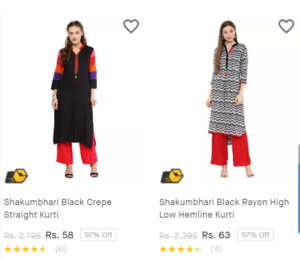 How to buy Women Kurtas from Snapdeal ?
1 . Visit product page here on Snapdeal
2. Click on "Buy Now".
3. Now login/signup >> Continue
4. Enter your delivery address now or Choose one from your already 'Saved Addresses' in Snapdeal account >> Continue
5. Now click on "Proceed to Payment"
6. There are various payment options you can use including your freecharge wallet balance.  Select the one you like and complete the order
Sit Back & Relax now. Your product will be on its way and delivered to your doorsteps. Thanks for availing our "Now Never Pay Full" Deal ! Keep visiting for more Snapdeal deals, coupons, promos, offers on dealnloot.
Proof –