After the first two successful versions of Amazon Great Indian Festival, Amazon is likely to organize the last sale of this season just before Diwali. Thus, it is the one last opportunity to avail heavy discounts and offers on all product categories. Amazon is organizing Great Indian Festival Sale once again starting 2nd November 2018. Get ready for the big shopping deals and discounts this festive season and celebrate #TyoharBadeDilwala with amazon 🙂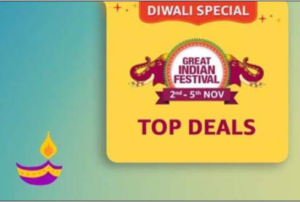 Category Wise Best Offers
Best Handpicked Deals
2. Nintendo Switch console with Grey Joy-Controller at Rs.23799 MRP 40000
3. Cooler Master Xornet Gaming Mouse (Black) at Rs.999 MRP 2990
4. Genius SP-925BT Bluetooth Speakers with Mic (White) at Rs.1199 MRP 6100
5. JBL C100SI In-Ear Headphones with Mic (Black) at Rs.549 MRP 1299
6. Puma Sports Shoes Minimum 70% off
7. Forzza Ronald Wall Shelf, Set of 3 (Matt Finish, Black) at Rs.499 MRP 1800
8. Bio-Oil Specialist Skin Care Oil, 200ml at Rs.342 MRP 900
9. Puma Black Casual Backpack (7489801) at Rs.390 MRP 1299
10. Dove Men+ Care Body and Face Wash, Extra Fresh, 400ml and Dove Men+ Care Antiperspirant Deodorant, Mineral + Sage, 150ml at Rs.209 MRP 524
11. Neuherbs® Instant Green Coffee Premix with Lemon Flavour for Weight Management (20+5 Sachet), Each 3g at Rs.99 MRP 389
12. Himalaya Herbals Cocoa Butter Intensive Body Lotion and Nourishing Body Lotion (400 mL, Pack of 2) at Rs.259 MRP 470
13. Himalaya Moisturising Aloe Vera Facial Wipes, 25 Count (Pack of 2) at Rs.120 MRP 200
14. (PRIME MEMBERS) Skybags 33 Ltrs Black Laptop Backpack (BPSPA2BLK) at Rs.560 MRP 3499
15. Braun BT5070 Cordless and Rechargeable Beard Trimmer for Men (Black) at Rs.1999 MRP 5095
16. Mammon Handbags Min 75% off
17. Set Wet Studio X Hair Styling Wax For Men – Clean cut Shine 70 gm at Rs.137 MRP 249
18. Set Wet Studio X Styling Pomade For Men – Shine & Texture 70 gm at Rs.140 MRP 345
19. Butterflies Handbags, Wallets & Clutches Minimum 80% off 
20. Set Wet Studio X Hair & Beard Serum For Men at Rs.126 MRP 299
21. Set Wet Studio X Face Wash For Men – Oil Clear 100 ml at Rs.100 MRP 199
22. Tang Instant Drink Mix Orange, Lemon and Mango, 3x500g at Rs.187 MRP 375
23. Puma Polyester 21 Ltrs Blue Danube Laptop Bag (7358914) at Rs.520 MRP 1299
24. Woodness Winston Solid Wood Upholstered 6 Seater Dining Table Set (Wenge) at Rs.9999 MRP 41400
25. Original Premium OnePlus 6T Tempered Glass at Rs.29 MRP 999
26. Spacewood Texas 2 Door Wardrobe (Woodpore Finish, Natural Wenge) at Rs.5499 MRP 20416
27. 70% Off on Fastrack Sunglasses
28. Welcare Elliptical Cross Trainer WC6044,India's Most Trusted Fitness Equipment's Brand at Rs.11475 MRP 28000
29. Glen GL 1020 SS Stainless Steel Cooktops at Rs.999 MRP 2495
30. American Tourister Backpacks & Suitcase Min 60% off
31. Regor [4.8Amp – 2 Port] High Speed Car Charger for All Smartphones at Rs.375 MRP 1200
32. iVoltaa Indie iVPC-IMBC15 Micro USB to USB 2.0 Braided Cable – 5 Feet at Rs.99 MRP 499
33. Lapguard Power Bank upto 83% off
34. SoundMagic P10S Headphones with Mic (Black/Red) at Rs.519 MRP 1499
35. Dettol Products Minimum 15% to 33% off
36. Soogo Glassware Min 50% off from Rs. 99
37. Brut Deodorant, Attraction Totale, 200ml at Rs.138 MRP 275
38. Palmolive Aroma Therapy Morning Tonic Shower Gel, 250ml (Pack of 2) at Rs.108 MRP 360
39. Barber's Club Moisturizing Beard Wash with Tea Tree Oil – 100 ml at Rs.160 MRP 399
40. Levi's Fabric 32 cms Red Backpack at Rs.560 MRP 2299
41. Gourmia Roasted Lightly Salted Cashews, 100g at Rs.97 MRP 195
42. Boltt Aspire On-Ear Bluetooth Headphones with Extra HD Clarity and Super Bass with FM and SD Card Slot with Music and Calling Controls (Blue) at Rs.899 MRP 2999
43. Forzza Ricky Queen Size Bed (Brown) at Rs.4399 MRP 17999
44. Rapoo NX1720 Optical Mouse and Keyboard Combo (Black)  at Rs.449 MRP 949
45. Rapoo Wired Keyboard (Black) at Rs.299 MRP 699
46. Rapoo NX1710 Optical Mouse and Keyboard Combo (Black) at Rs.499 MRP 999
47. Portronics POR 334 3 USB Port Car Charger with Micro USB Cable (White) at Rs.249 MRP 499
48. Sound One SO-CCQ-110 Dual Port 3.0 USB Car Charger (Black) at Rs.299 MRP 999
49. Reebok Footwear Min 70% off
50. L'Oréal Paris Infallible Eye Shadow Paint, 302 Shady Violet, 7.4g at Rs.285 MRP 845
51. Kama Sutra Deodorant for Men, Dare, 150ml 210 80
52. Mamaearth 100 Percent Natural Berry Blast Kids Toothpaste, 50g 149 71(Apply Coupon 5%)
53.Knight Ace Hawaii Slippers 499 99
54.Reebok Men's Ultra Adventure Club Flip Flops and House Slippers  2,699  809
55.Reebok Boy's Identity Flex Jr Sneakers  3,599 1079
56.Reebok Men's Speed Up Xt Running Shoes 3,699 1098
57.Reebok Men's Camo Trek 2.0 Nordic Walking Shoes 4999 1249 
58.Reebok Women's Club C 85 Melted Metal Pearl Met 7,999 2399
59.Reebok Men's Cl Ebk Leather Sneakers  8,999 2699
60.Reebok Polyester 46 cms Black Gym Bags (BR9404)  1,599 399
61. Reebok Black Shopping Bag (BK2499N SZ)  1,699  424
62.Reebok Black WaistBag (BK2502S)  1,799  449
63.Reebok Synthetic 23 cms Black Duffle Bags (CG0794)  2,199 659
64.Cello Technotip Ball Pen Set – Pack of 10 (Black) 100 70
65. Original Premium OnePlus 6T Tempered Glass at Rs 79 999 92% off
1 . Jewels Galaxy PearlBangle for Women (Multi-Colour)(JG-BNSSG-482-2) 1999 179 (91% off)
2. Sennheiser PMX 686G Sports Earbud Neckband Headset (Grey/Green) 8990 1590 (82% off)
3. Amazon Brand – Symbol Men's Cotton Sweatshirt (AW17-SW-ZP-61_Rifle Green_Large) 1699 339 (80% off)
4. Awg – All Weather Gear Men's Cotton Multi-Colour Sweatshirt With Zip – Aw17-Awg-Sslz83-L 2999 599 (80% off)
5. United Colors of Benetton Boy's Navy Sneakers-5 UK/India (38 EU)(18P8SNEA2055I) 2099 440 (79% off)
6. Belkin Dual USB Port Boost Up Car Charger with Coiled Micro USB Cable, 4 Foot (Black) 3445 799 (77% off)
7. boAt Bass Heads 900 Wired Headphones with Mic (White) 2490 599 (76% off)
8. Ant Audio Treble H82 On-Ear Bluetooth Headphones with Mic (Blue) 3499 899 (74% off)
9. Strauss Yoga Mat, 6mm (Blue) 1299 349 (73% off)
10. Ziyaa Women's Straight Kurta (ZIKUCR2108_Grey_S) 1107 304 (73% off)
11. Omron HM-340 Cushion Massager 5330 1499 (72% off)
12. Red Tape Women's Grey Nordic Walking Shoes-4 UK/India (37 EU)(RLO0238) 4895 1468 (70% off)
13. boAt Nirvanaa Uno in-Ear Earphones with Mic (Black) 1990 599 (70% off)
14. Micromax PB20100MAHGRY 20100mAH Power Bank (Grey) 3299 1099 (67% off)
15. boAt Stone 200 Portable Bluetooth Speakers (Orange) 2990 999 (67% off)
16. Chris & Kate Polyester 26 LTR Blue School Backpack 999 336 (66% off)
17. Philips Base B22 9-Watt LED Bulb (Pack of 4, Cool Day Light) 1000 339 (66% off)
18. Amazon Brand – Symbol Men's Sneakers 2699 944 (65% off)
19. Little's Soft Cleansing Baby Wipes (Pack of 3, 80 Wipes) 495 179 (64% off)
20. Seagate 4TB Backup Plus USB 3.0 Portable 2.5 Inch External Hard Drive for PC and Mac with 2 Months Free Adobe Creative Cloud Photography Plan & Kaspersky Antivirus 1 Year Subscription – Red 22199 8099 (64% off)
21. Philips Norelco Multigroom Series 3000 13 Attachments Shaving Set Mg3750 6538 2499 (62% off)
22. Fitkit FT098 1.5 HP (2 HP peak) Motorized Treadmill (Free Installation) 41000 15990 (61% off)
23. Lifelong Glass Top Gas Stove, 3 Burner Gas Stove, Black (1 year warranty with Doorstep Service) 6145 2399 (61% off)
24. United Colors of Benetton Men's Loafers 2999 1191 (60% off)
25. GEAR Black and Orange Casual Backpack (BKPCARYON0106) 498 199 (60% off)
26. VLCC Shape Up Slimming Oil, 200ml 500 200 (60% off)
27. Lifelong Glass Top Gas Stove, 4 Burner Gas Stove, Black (1 year warranty with Doorstep Service) 7495 2999 (60% off)
28. boAt Stone 700 Water Proof and Shock Proof Wireless Portable Speakers (Rugged Black) 4990 1999 (60% off)
29. Trident Comfort Living 120 TC Cotton Bedsheet with 2 Pillow Cover – Abstract, Queen Size, Yellow 1199 499 (58% off)
30. Umanac TR4002 Adjustable Cordless Trimmer (Black) 1799 775 (57% off)
31. Soundmagic E10C in-Ear Wired Headphones with Mic (Red) 3199 1399 (56% off)
32. TRESemme Nourish & Replenish Shampoo 580ml & Conditioner 190ml Combo Pack + Philips Hair Dryer 1605 797 (50% off)
33. Cello Bello Glass Tumbler Set, 330 ml, Set of 2, Transparent 199 99 (50% off)
34. iBall Musi Sway BT01 Wireless Headset with Built in Mic 1799 899 (50% off)
35. Nivea Nourishing Body Milk Lotion Richly Caring for Very Dry Skin, 400ml with Nourishing Body Milk Lotion Richly Caring for Very Dry Skin, 120ml 460 230 (50% off)
36. Bose QuietComfort 25 Acoustic Noise Cancelling headphones – Apple devices, Black 25200 12600 (50% off)
37. TCL 163.8 cm (65 inches) 4K Ultra HD Android M Smart LED TV L65P2MUS (Gold) 149900 74990 (50% off)
38. F&D T180X 2.0 TV Soundbar (Black) 9990 4999 (50% off)
39. Pigeon by Stovekraft New Handy Plastic Chopper with 3 Blades, Green 495 249 (50% off)
40. SanDisk 32GB Class 4 microSDHC Flash Memory Card (SDSDQM-032G-B35) 900 469 (48% off)
41. Kellogg's Oats, 1kg 185 99 (46% off)
42. Panasonic 139 cm (55 inches) 4K Ultra HD Smart LED TV TH-55FX650D (Grey) (2018 Model) 129900 69990 (46% off)
43. Yonex B RQTS GR 303 Badminton Racquet, 90g (Blue) 645 349 (46% off)
44. Fujifilm Instax Mini 8 Instant Film Camera (Grape) 5530 3000 (46% off)
45. JBL Cinema SB350 Premium Wireless Soundbar with Wireless Subwoofer 34990 18990 (46% off)
46. Apollo Diabetes Home Care Kit (Box with Connected Glucometer & 50 Strips) – 12-month Diabetes Care Program 3499 1899 (46% off)
47. Sanyo 80 cm (32 inch) XT-32S7201H HD Ready LED TV (Black) 19990 10990 (45% off)
48. Lifeline Hg 002 Square Home Gym 24000 13267 (45% off)
49. Snoopy Fiber Filled 5 Piece Pillow Set – 17″ x 27″, Antique White 1799 999 (44% off)
50. SanDisk 1TB Extreme Portable SSD (SDSSDE60-1T00-G25) 35000 19599 (44% off)
51. Whirlpool 1.5 Ton 3 Star (2018) Split AC (Aluminium, 1.5T MGCL PRM 3S, White) 45000 25799 (43% off)
52. Samsung 23.5 inch (59.8 cm) Curved LED Monitor – Full HD, VA Panel with VGA, HDMI, Audio Ports – LC24F390FHWXXL (Black) 16000 9499 (41% off)
53. LG 20 inch (49.53 cm) LED Monitor – HD Ready, TN Panel with VGA Port – 20MK400A (Black) 8400 4999 (40% off)
54. Vaseline Intensive Care Cocoa Glow Body Lotion, 300ml 285 171 (40% off)
55. Milton Medical Box 231 149 (35% off)
56. Samsung Galaxy Note 8 (Midnight Black, 6GB RAM, 64GB Storage) with Offers 67900 43990 (35% off)
57. Vaseline Intensive Care Deep Restore Body Lotion, 400ml 233 151 (35% off)
58. Honor 7C (Blue, 3GB RAM, 32GB Storage) 12999 8499 (35% off)
59. Vaseline Intensive Care Deep Restore Body Lotion, 400ml (Save Rupees 120) 233 152.75 (34% off)
60. Mitashi 6.2 kg Fully-Automatic Top Loading Washing Machine (MiFAWM62v20, Grey) 15990 10490 (34% off)
61. Bajaj Shakti Plus 10-Litre 3000-Watt Storage Water Heater (Ivory) 6510 4311 (34% off)
62. All-new Echo Dot (3rd Gen) – Smart speaker with Alexa (White) 4499 2999 (33% off)
63. Samsung 108 cm (43 inches) 5 Series Full HD LED TV 43N5002 (Black) (2018 model) – With Wall Mount Only 44900 29990 (33% off)
64. Hero Brat 16T Single Speed Cycle (Blue) 3740 2499 (33% off)
65. Luminous Morpheus 1200mm Ceiling Fan (White) 1640 1099 (33% off)
66. Samsung 1.5 Ton 3 Star Inverter Split AC (Copper, AR18NV3HFTRNNA, Starflower) 52060 35490 (32% off)
67. Huawei P20 Lite (Black, 4GB RAM, 64GB Storage) 21999 14999 (32% off)
68. BPL 20 L Convection Microwave Oven (BPLMW20C1G, Grey) 8890 6190 (30% off)
69. Nikon D5600 with AF-P 18-55 mm + AF-P 70-300 mm VR Kit with Bag and 16GB Memory Card Free 72550 50590 (30% off)
70. Dell Inspiron 3565 AMD E2 15.6 inch Laptop (4GB/1TB HDD/Ubuntu/Black/2.5 Kg) 22881 15990 (30% off)
71. Sennheiser HD 4.50 BT NC Bluetooth Wireless Headphones (Black/Silver) with Active Noise Cancellation 14990 10490 (30% off)
72. Haier 320 L 3 Star Frost Free Double Door Refrigerator(HRB-3404BS-R/HRB-3404BS-E, Brushline silver, Bottom Freezer) 36300 25490 (30% off)
73. Crompton Aqua Plus IWHAQUAPLUS (3KW) 3-Liter Vertical Instant Water Heater (Blue/White) 3685 2599 (29% off)
74. Samsung Galaxy A8+ (Black, 6GB RAM, 64GB Storage) with Offers 34000 23990 (29% off)
75. Lifelong 16L 1200-Watt Oven Toaster Griller, Black 3499 2499 (29% off)
76. Samsung On7 Pro (Gold, 2GB RAM, 16GB Storage) 9490 6790 (28% off)
77. HP DeskJet 4729 All-in-One Ultra Ink Advantage Wireless Colour Printer 11596 8499 (27% off)
78. Samsung Galaxy On7 Prime (Black, 4GB RAM, 64GB Storage) 14990 10990 (27% off)
79. Samsung 7.2 kg Semi-Automatic Top Loading Washing Machine (WT725QPNDMP, White and Blue) 13590 10200 (25% off)
80. Lenovo 80XU004UIN 14.0-inch Laptop (E2-9000/4GB/500GB/Windows 10 Home/Integrated Graphics), Platinum Gray 26490 19990 (25% off)
81. Dell Vostro 3478 Intel Core i3 8th Gen 14-inch Laptop (4GB/1TB HDD/Ubuntu/Black/2.25kg) 32607 24990 (23% off)
82. HP 15 Intel Core i3 7th Gen 15.6-inch Thin and Light Laptop (4GB/1TB HDD/Windows 10 Home/ 2GB Graphics/Sparkling Black/1.95 kg), bs675tx 38683 29990 (22% off)
83. Canon Pixma G1010 Single Function Ink Tank Colour Printer 8195 6499 (21% off)
84. Redmi Y2 (Gold, 4GB RAM, 64GB Storage) 13499 10999 (19% off)
85. Honor 8X (Blue, 4GB RAM, 64GB Storage) 17999 14999 (17% off)
86. Micromax 54.61 cm (21.5) MM215FH76 Monitor(Not TV) at Rs.3999 MRP 8520
87. Forzza Krabi Folding Outdoor Recliner Chair (Turquoise Blue) at Rs.1699 MRP 6999
88. Fogg Deo, Royal, 150ml (Pack of 3) at Rs.345 MRP 690
89. Snickers Medley Assorted Chocolate Gift Pack, 137.6 gm at Rs.59 MRP 150
90. Lifelong Glass Top Gas Stove, 4 Burner Gas Stove, Black (1 year warranty with Doorstep Service) at Rs.2799 MRP 7495
91. Spigen Ultra Hybrid Case for Samsung Galaxy S9 – Crystal Clear 592CS22836 at Rs.299 MRP 1999
92. Spacewood Riva Queen Size Bed (Woodpore Finish, Natural Wenge) at Rs.6499 MRP 23260
93. Galio Foot Step for Toyota Fortuner at Rs.116 MRP 600
94. Palmolive Aroma Therapy Morning Tonic Shower Gel, 250ml (Pack of 2) at Rs.108 MRP 360
95. Herb Essential Face Wash With Neem & Lemon Grass, 100 ml at Rs.110 MRP 220
96. Dove Men+Care 2 in 1 Shampoo and Conditioner, Fresh and Clean Fortifying, 355ml at Rs.130 MRP 325
97. Rasna Fruit Plus, Orange, 750g at Rs.89 MRP 180
98. Healthfit Raw Whey Protein Concentrate Powder 80% – 2lbs, 907g -30 Servings (Unflavoured) at Rs.719 MRP 1799
99. Tang Instant Drink Mix Orange, Lemon and Mango, 3x500g at Rs.187 MRP 375
100. PRONTO Naples ABS 65 cms Red Hardsided Check-in Luggage (7808 – RD) at Rs.1950 MRP 7500
101. FabHomeDecor Furny Calista 5 Seater LHS Sectional Sofa (Coffee Brown) at Rs.999 MRP 51000
102. Puma Polyester 60 cms Lapis Blue Travel Duffle (7496413) at Rs.765 MRP 2999
103. Puma 23 Ltrs Pink Backpack (7566303) at Rs.383 MRP 1499
104. Skybags Footloose Colt 30 Ltrs Black Casual Backpack (BPFCOE2EBLK) at Rs.837 MRP 3600
105. Bose QuietComfort 25 Acoustic Noise Cancelling headphones – Apple devices, Black at Rs.12600 MRP 25200
106. Indigo Women's clothing 70% off 
107. Furnitures Lightning Deals upto 75% off
108. Maxima watches Min 60% off 
109. United Colors of Benetton Backpack Minimum 70% off 
110. Unibic Sugar Free Delight, 500g at Rs.249 MRP 499
111.Cadbury Assorted Chocolates Gift Pack, 275g – with Glass Diyas Inside at Rs.433 MRP 770
112. Dove Spray Antiperspirant Deodorant, Original, 150ml at Rs.98 MRP 195
113. UNIBIC Celebrations Cookies, 700g at Rs.250 MRP 499
114. 50% Off on Shampoos
115. Premium OnePlus 6T Back Case at Rs.49 only
116. L'Oreal Paris 134 Mixy Violet Infallible Gel Nail Paint, Purple, 10ml at Rs.183 MRP 499
117. Speakers & Headphones Sale upto 70% off
118. Bond Street by Red Tape Men's Footwear Min 70% off 
Day 1
1 . Surf Excel Matic Front Load Detergent Powder, 2 kg Rs 465 330
2. Canon EOS 3000D 18MP Digital SLR Camera (Black) with 18-55mm is II Lens, 16GB Card and Carry Case  Rs 31995 19490 (with HDFC) + Rs 1000 amazon pay cashback
3. boAt Stone 200 Portable Bluetooth Speakers (Orange)  Rs 2990 899
4. Active Chicken and Vegetable Puppy Dog Food, 10 kg  Rs 1940 679
5. WD My Passport 3TB Portable External Hard Drive (Black) Rs 9280 5669 (with HDFC) + Rs 570 amazon pay cashback
6. iVoltaa Helios Micro USB Cable – 4 Feet (1.2 Meters) – Red  Rs 399 69
7. Lotus Professional PhytoRx Whitening and Brightening Night Cream, 50g  Rs 451 199
8. Huawei P20 Lite (Black, 4GB RAM, 64GB Storage)  Rs 22999 13499 (HDFC) + Rs 1000 amazon pay cashback
9. Dell Inspiron 3565 AMD E2 15.6 inch Laptop (4GB/1TB HDD/Ubuntu/Black/2.5 Kg)  Rs 22881 14490 (HDFC)+ Rs 1000 amazon pay cashback
10. Cleartrip Rs 1000 voucher in Rs 800, use code – FESTTRIP
11. Echo Dot (2nd Gen) – Smart speaker with Alexa (Black) Rs 4499 2449 + Rs 122 amazon pay cashback
12. Pantene Hair Fall Control Shampoo, 1L  Rs 600 290
13. Mi A2 (Gold, 4GB RAM, 64GB Storage)  Rs 17499 13499 (HDFC) + Rs 1000 amazon pay cashback
14. Moto G6 Plus (Indigo Black, 6+64 GB)  Rs 23999 16499 (HDFC) + Rs 1000 amazon pay cashback
15. Maharaja Whiteline Turbomix 350-Watt Hand Blender  Rs 1249 539
16. Acer Aspire 5 Core i5 8th gen 15.6-inch FHD Laptop (4GB/1TB HDD/Linux/Steel Grey/2.2kg), A515-51  Rs 41999 28490 (HDFC) + Rs 1000 amazon pay cashback
17. Osmon OS 1400BL Bagless Vacuum Cleaner (Red) at Rs,2109 MRP 5990
18. Bio-Oil Specialist Skin Care Oil, 200ml at Rs.342 MRP 900
19. Springtek Kings Lay 6-inch King Size Mattress (White, 78x72x6) at Rs.13699 MRP 73599
20. TAAR Rugged Premium TPR MUSB Micro USB Nylon Braided Data Cable – 4.92 Feet (1.5 Meter) at Rs.99 MRP 499
21. Levi's Turquoise School Backpack (38004-0016) at Rs.664 MRP 2299
22. HP DeskJet Ink Advantage 5275 Multi-Function Wireless Printer (Black) at Rs.6499 MRP 12900
23. Park Avenue Epic Body Fragrance 150ml (Pack of 2) at Rs.219 MRP 398
24. Regor Qualcomm Certified,Quick Charge 3.0,Dual Port 36Watt Car Charger + Free Micro USB Cable at Rs.449 MRP 1499
25. TAGG Roadster Dual USB Smart Car Charger (Gun Metal) at Rs.699 MRP 3299
26. Logitech G29 Driving Force Racing Wheel at Rs.17999 MRP 36995
27. Royaloak Atlas TV Unit (Wengy) at Rs.1999 MRP 7538
28. Yardley London – Gentleman Adventure Eau de Toilette, 50ml at Rs.240 MRP 600
29. Levi's Men's Wallet Minimum 60% off + 10% off
30. Parker Pens Minimum 50% off
31. DC Men's Clothing Min 80% off
32. Hot Wheels Mattel H7045 20 Car Gift Pack at Rs.569 MRP 1799
33. Hasbro Trivial Pursuit Game Classic Edition at Rs.689 MRP 2299
34. Monopoly Pay Day Game at Rs.585 MRP 1999
35. Dove Spray Antiperspirant Deodorant, Original, 150ml at Rs.98 MRP 195
36. Garnier Ultra Blends Mythic Olive Shampoo, 360ml at Rs.123 MRP 245
37. Unibic Sugar Free Delight, 500g at Rs.249 MRP 499
38. Watches Lightning Deals upto 70% off
1 . Scott I-Dry Signature Style All Weather Jacket for Men – BlackAW18-IDRY-JKT-BL-M 2499 399 (84% off)
2. Ben Martin Men's Relaxed Fit Jeans (BMW-JJ3-DARK-p4-32_Dark Blue_32) 2499 489 (80% off)
3. Philips Norelco Nose Trimmer 1500, Nt1500/49, With 3 Pieces For Nose, Ears And Eyebrows 3616 950 (74% off)
4. Palmolive Aroma Absolute Relax Shower Gel, 250ml (Pack of 2) 380 108 (72% off)
5. WOW Raw Apple Cider Vinegar – 750 ml – with strand of mother – Not from concentrate 899 259 (71% off)
6. Inalsa Ruby 1000-Watt Dry Iron with Non-Stick Coated Soleplate (White and Purple) 995 299 (70% off)
7. Photron P10 Wireless 3W Portable Bluetooth Speaker (Deep Cobalt) 1990 599 (70% off)
8. boAt Stone 200 Portable Bluetooth Speakers (Black) 2990 999 (67% off)
9. Amazon Brand – Symbol Men's Sneakers 1699 594 (65% off)
10. Eveready TGC2B Glass Top 2 Burner Gas Stove – Black 4995 1759 (65% off)
11. Kore K-20kg Combo 2-SL-N Home Gym 4479 1585 (65% off)
12. Sony MDR-ZX110A On-Ear Stereo Headphones (White), without mic 1390 499 (64% off)
13. Bissell Aero Vac 2-In-1 Bagless Stick Vacuum Cleaner (Grey) 5000 1799 (64% off)
14. Fitbit Flex 2 Wireless Activity Tracker and Sleep Wristband (Black) 9499 3499 (63% off)
15. JioFi 4G Hotspot M2S 150 Mbps Jio 4G Portable Wi-Fi Data Device (Black) 2329 899 (61% off)
16. Lifelong Power Pro 500-Watt Mixer Grinder with 3 Jars (White/Grey) 2499 999 (60% off)
17. Glen GL 1020 SS Stainless Steel Cooktops 2495 999 (60% off)
18. boAt Stone 700 Water Proof and Shock Proof Wireless Portable Speakers (Rugged Black) 4990 1999 (60% off)
19. Pigeon by Stovekraft Cruise 1800-Watt Induction Cooktop (Black) 2922 1199 (59% off)
20. Seagate 2TB Backup Plus Slim (Black) USB 3.0 External Hard Drive for PC/Mac with 2 Months Free Adobe Photography Plan & Kaspersky Antivirus 1 Year Subscription 12299 5099 (59% off)
21. Steelo Plastic PET Container Set, 30-Pieces, Maroon 3103 1299 (58% off)
22. JBL C100SI In-Ear Headphones with Mic (Black) 1299 549 (58% off)
23. Nivia Storm Football, Size 5 (White) 550 237 (57% off)
24. Pantene Hair Fall Control Shampoo, 1L 600 290 (52% off)
25. Snuggles Standard Medium Size Diaper Pants (74 Count) 800 399 (50% off)
26. SanDisk 32GB Class 10 Micro SDHC Memory Card with Adapter (SDSQUAR-032G-GN6MA) 1000 499 (50% off)
27. Lifelong 1200 mm High Speed Ceiling Fan (Ivory) 1900 949 (50% off)
28. Bose QuietComfort 25 Acoustic Noise Cancelling headphones – Apple devices, Black 25200 12600 (50% off)
29. AXE Signature Gold Dark Vanilla and Oud Wood Perfume, 80ml 450 225 (50% off)
30. Pantene Oil Replacement, 80ml 85 42.5 (50% off)
31. TCL 163.8 cm (65 inches) 4K Ultra HD Android M Smart LED TV L65P2MUS (Gold) 149900 74990 (50% off)
32. JBL GO Portable Wireless Bluetooth Speaker with Mic (Black) 2699 1399 (48% off)
33. Micromax 81 cm (32 inches) HD Ready LED TV 32T8361HD/32T8352D (Black) 19990 10490 (48% off)
34. Samsung T5 500GB Portable Solid State Drive (Blue) 17599 9499 (46% off)
35. Fujifilm Instax Mini 8 Instant Point and Shoot Camera (Blue) 5530 3000 (46% off)
36. Whirlpool 1.5 Ton 3 Star (2018) Split AC (Aluminium, 1.5T MGCL PRM 3S, White) 45000 25799 (43% off)
37. Samsung 23.5 inch (59.8 cm) Curved LED Monitor – Full HD, VA Panel with VGA, HDMI, Audio Ports – LC24F390FHWXXL (Black) 16000 9499 (41% off)
38. Micromax Lapbook Atom 11.6-inch Laptop (2GB/32GB/Windows 10/Silver/1.3kg), L1161 14999 8990 (40% off)
39. Sennheiser CX 180 Street II In-Ear Headphone (Black), without Mic. 990 599 (39% off)
40. BPL 564 L Frost Free Side-by-Side Refrigerator(BRS564H, Silver) 65990 39990 (39% off)
41. Acer Nitro Ryzen 5 15.6-inch Gaming FHD Laptop (8GB/1TB HDD/Windows 10/4GB Graphics/Black/2.7 Kg), AN515-42 79999 49990 (38% off)
42. BPL 6.5 kg Semi-Automatic Top Loading Washing Machine (BSATL65F1, Dual Colour) 10990 6990 (36% off)
43. Samsung Galaxy Note 8 (Midnight Black, 6GB RAM, 64GB Storage) with Offers 67900 43990 (35% off)
44. IFB 25 L Convection Microwave Oven (25SC3, Metallic Silver) 14290 9290 (35% off)
45. Honor 7C (Blue, 3GB RAM, 32GB Storage) 12999 8499 (35% off)
46. Samsung 108 cm (43 inches) 5 Series Full HD LED TV 43N5002 (Black) (2018 model) – With Wall Mount Only 44900 29990 (33% off)
47. Huawei P20 Lite (Black, 4GB RAM, 64GB Storage) 21999 14999 (32% off)
48. Canon Pixma MG2577s All-in-One Inkjet Colour Printer (Blue/White) 3365 2299 (32% off)
49. Asus Vivobook X540MA-GQ024T 15.6-inch Laptop (Intel Celeron N4000/4GB/500GB/Windows 10/Integrated Graphics), Chocolate Black 25990 17990 (31% off)
50. Haier 5.8 kg Fully-Automatic Top Loading Washing Machine (HWM58-020, White) 14990 10490 (30% off)
51. Amazon Echo – Smart speaker with Alexa | Powered by Dolby ΓÇô Black 9999 6999 (30% off)
52. Samsung Galaxy A8+ (Black, 6GB RAM, 64GB Storage) with Offers 34000 23990 (29% off)
53. Lenovo Ideapad 320 Intel Core i3 6th Gen 15.6-inch Laptop (4GB/1TB HDD/DOS/Onyx Black/ 2.2kg/with ODD), 80XH01GEIN 35390 24990 (29% off)
54. Samsung On7 Pro (Gold, 2GB RAM, 16GB Storage) 9490 6790 (28% off)
55. Min 75% Off on Sarees, Kurtis, Dress Material and more 2659 290 (75% off)
56. Min 75% Off On Men's Casual Clothing 1999 399 (89% off)
57. Pigeon by Stovekraft Basics Induction Base Non-Stick 4 PC Cookware Set, Terracotta Brown 3450 999 (80% off)
58. Solimo XL Bean Bag Cover (Yellow and Black) 999 299 (71% off)
59. Min. 70% Off | Red Tape 4195 1258 (70% off)
60. Min 65% Off on Kids Clothing 3999 1239 (70% off)
61. Dr Trust AOne Rechargeable Blood Pressure Testing Monitor B 3750 1301 (69% off)
62. Men's Jeans under 499 1199 431 (65% off)
63. Min 75% off on Backpacks 599 231 (64% off)
64. Pigeon Stainless Steel Kitchen Knives Set, 3-Pieces, Multicolor 495 193 (61% off)
65. Men's Footwear @ Min 60% off 999 395 (61% off)
66. Solimo Stainless Steel Kitchen Peeler, Set of 2 500 199 (60% off)
67. Solimo Wax Tealight Candles (Set of 100, Unscented) 500 199 (60% off)
68. Home Gyms & Fitness Accessories | Upto 60% Off 549 219 (60% off)
69. Pigeon Special Non-Stick Aluminium Flat Tawa, 280mm, Black 995 443 (60% off)
70. Lifelong Glass Top Gas Stove, 4 Burner Gas Stove, Black (1 year warranty with Doorstep Service) 7495 3355 (55% off)
71. Nivia Spinner Rubber Moulded Football 820 379 (55% off)
72. LuvLap Baby Wipes 72+8Â  – Pack of 6 594 345 (54% off)
73. Dove Men+Care 2 in 1 Shampoo and Conditioner, Complete Care Fortifying, 355ml 325 211 (42% off)
74. Cables, Car and Wall Chargers Starting @149 7149 4999 (35% off)
75. Wakefit Orthopaedic Memory Foam Mattress75605inch 14757 10410 (30% off)
How to partitcipate in Great Indian Festival 2018 ?
Check out our best-handpicked deals from above
2. Add desired product to cart
3. Login/register
4. Update shipping details.
5. Pay the amount or Order on Cash on Delivery if available in your area
Bank Offer –
Minimum transaction value: INR Unknown
Maximum cashback per card: INR Unknown
Offer Valid on Debit & Credit Cards
How to get best deals from "Great Indian Sale" ?
Do you want to get best deals from the Sale ? Don't worry we will solve that problem for you guys  🙂
You just need to bookmark this post and subscribe to all our services to get notified of all the updates regarding this awesome sale !!
Yes Dealnloot Team will be bringing all the best offers from the #Great Indian Sale live to you through www.dealnloot.com, through whatsapp alerts and through email alerts !!



Enjoy the Sale !!