Today once again we are back with an awesome crypto loot. Now get Get 80 Token for free for all user. So must avail it. This token is locked in for some time. After that you can sell it and take money in bank.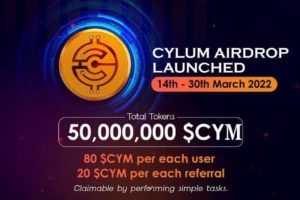 Note 1- Token will unlock after 61 days. 
Note 2- If you are new Trust wallet user, then See the procedure to create account in trust wallet, pls visit here
How to get 80 CYM token free? 
1- First of all, Open trust wallet
2- Go to Dapps
3- Paste this link in bar and then Enter-
https://cylum.io/app?r=eMsNZMBWNM
3- Paste this link-
https://cylum.io/app?r=eMsNZMBWNM
4- Click on connect wallet and choose smart chain network to connect
5- Now go to airdrop area and click "start for free"
6- now complete few task
7-First task–
Follow instructions and Join 2 telegram group and send given "code"in telegram group to very you. Then click " Done, let's proceed".
8- Second task-. (You can skip) 
1.Open Twitter, Search and Follow our Twitter Page @CylumFinance
2.Retweet the Pinned Post on our twitter page (Just click and back)
3.Tag a mimimum of 3 Friends with any of these hashtags: #CYM #Cylum #Staking #AutoCompound #CylumAutoStaking
Then click " Done, let's proceed"
9- Third Task- (You may skip) 
Subscribe YouTube channel
Then click " Done, let's proceed". (Optional, just click and back)
10- Now click on submit data
11- Give Email, telegram username
12. Submit
13- Now add this contract address into trust wallet-
0x15Ea6B8481bF1C991aC3dC8e67279d31651a56FE
Network- Smart chain
14- Within 24 hour token will be credited into your wallet
*Till launch of this token. It will be in auto staking and will be earned to you as some extra interest for staking. On launching it will be unlock and then you can sale*