Now get one more token airdrop. Bull token is offering 600 Bull100x token for each user. so., hurry up. Claim it fast.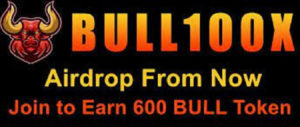 Note – If you are new Trust wallet user, then See the procedure to create account in trust wallet, pls visit here
How to Complete task and get 600 Bull token for free)??
1- visit here via telegram OR https://t.me/BULL100X_AirdropBot?start=CKbFREAdl
2-  Join their other telegram groups and  type "BULL Token" in any above group
3-  Click "Done" button to next step
4- Follow their twitter account.
5- Now Give your BEP 20 Address
6- Claim it
7- within 24 hour you will get 200 Bull token for free
8- Now Add this contract adress to your trust wallet
Network- Smart chain
Contract- 0x72aDD749DdCFE9b749f50CBFf76B59A2e6c80Af5