Don't Miss…
Hurry…
Personally tried… Proof Added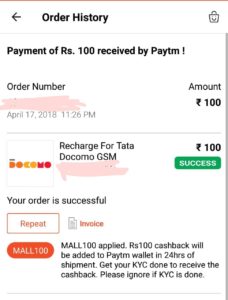 UPDATE: IT's WORKING NOW PERFECTLY… Don't Worry… U will get your money in PayTM Wallet if it fails…
NOTE: It won't work for Non-KYC users, as PayTM give cashback to its KYC Users only.
Rs 100 Cashback code may not work, but Rs 30 cashback code is working.
But try Rs 100 Cashback too, if the transaction fails, you'll get the money in your wallet.
How to get Rs 130 Recharge for Free?