5ROI is again with an awesome loot offer on crypto. 5ROI Global together with partner SuperBull officially launched the SBULL Token Airdrop program with extremely attractive rewards. SuperBull is a project specializing in the development of NFTs born for the community that believes in the "bull market", believes that the cryptocurrency market will always grow strongly with the mission of building a better-developed society together. Now Sign up and Get $40 SuperBull Token for Free. So, hurry up!!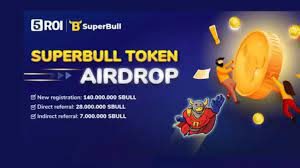 UPDATE- Must complete 1 trade worth min 10$ at 5ROI to unlock your 40$ balance. This Sbull token can be withdraw from 19th may.  KYC is not required for withdraw.
Deposit Suggestion- Deposit TRX in 5ROI from any other crypto exchange like CoinDCX etc.  of min 175 TRX. Sell this in USD and Buy again TRX. Then send back to Indian exchange to withdraw.
How to Sign up and Get $40 SuperBull Token for Free?
1. First Of All Just Click The Below Link Register On 5ROI Exchange. Continue reading →