The time of Festivals has arrived. These are the two months that every Online shopper waits for! In this Festive Season, Amazon has announced that it will be organizing its Amazon Great Indian Festival Sale 2017 soon. Start saving and fill your Amazon wallets with money to enjoy the deals that you'll be getting in the Sale. Start making a wish list as there are only a few days left! The Sale begins on 14th October and continues for 4 days until 17th October.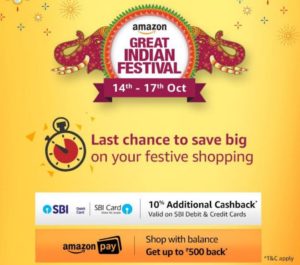 Subscribe to Amazon Prime to enjoy Free, Faster Delivery and to avail Deals that are available only for Amazon Prime members.
So will it be Difficult for you to buy products that you need along with availing steal deals? Absolutely no as we will be adding Handpicked deals on this post!
Handpicked best Deals
Category Wise Offers
Lightning Deals
1 . Soundbot SB303 Sports Headphones with Mic (Black) 3990 599 (85% off)
2. Nova Panni NSG-2439 700-Watt 2-Slice Sandwich Maker (Black/Grey) 6995 1299 (81% off)
3. Photron Clean Pro 6-in-1 Cleaning Kit 999 199 (80% off) Continue reading →