Hey !! Dealnlooters, we are here with a stupendous News that will goose your bumps 😛
Finally, Reliance Telecom leader Mukesh Ambani has launched its dreaming project "Jio" with a lots of super-exciting offers that will blow your mind. Yes, they will offer World's Cheapest Data Service, 1GB at just Rs 50 and even less upto Rs 25 per GB for heaviest data users + Free Unlimited Voice Calls . Isn't a revolutionizing step ahead #Digital India ? We had collaged all announcements &  offers, just take a view and be a part of #Digital India with Jio 😀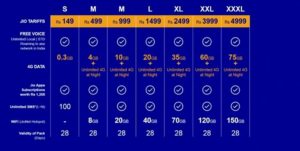 Let's take a summary of announcements made at the launch event of World's Cheapest Data Service, by RIL head Mukesh Ambani

in Mumbai:-
>> Reliance Jio will not charge for Voice calls or roaming calls within India. Customers should be charged for voice or data, but not both, said Ambani.
>> Data demand is growing. Jio's mission is to meet this exploding need, to go from data shortage to data abundance.
>> Reliance Jio data prices are roughly one-fifth of what customers have been charged so far – 1 GB of data will cost Rs 50 or as less upto Rs 25.
>> Anyone can get free Jio SIM For his 4G Smartphone at nearest Reliance Digital Store and can enjoy uninterrupted services till December 31st, 2016.
>>  "Life is going digital… I believe in next 20 years we will collectively achieve much more that before." He says we will become irrelevant if we are not digital in this era. "India and Indians cannot be left behind". He says Jio will improve India's digital ranking.
What are the various offers under this Multi-billion Project ?
1 . Tariff Plans- Less Plans, huge data:- Currently, there are more than 22,000 telecom tariffs across the country and apart from the trend, Jio plans to introduce 10 main plans:-
"We have price points starting from Rs 19 for the occasional data user, to a monthly Rs 149 plan for the light data user and all the way up to a monthly Rs 4,999 plan for the heaviest data user," Ambani said.
2 . Unlimited Free Voice Calls:- Jio will offer Unlimited Voice calls throughout the country ( with no extra roaming charges).
3. Access to Premium apps:- Jio user will be allowed to access over various Jio Premium apps with a subscription worth 15k till 31st Dec, 2017
4. Data Tariffs:- Under this multi-billion project, one can get 1GB 4G data as low as Rs 25 to Rs 50 only, which is approximately 5-10 times lower than the current exorbitant rates.
5 . Student's Special:- As expected, an awesome announcement specially for the Students which has major share as Internet user will get extra 25% off on Jio's tariffs.
6. E-KYC:- Now, you can get a Jio connection within just 15 minutes. Sounds amazing ? Yes, now submit your necessary Documents and grab free Jio Sim !!
New Updates –
1 . Anyone who has a 4G Volte enabled smartphone can get a Jio Sim starting from 5th September onwards. You will also be provided with welcome offer valid till 31st December 2016 which receives unlimited
2. Data FUP Limit – You can use a maximum of 4 GB Data per day under the unlimited data offer. If you exceed it, then the speed for that particular day will be reduced to 128kbps. There maybe a SMS Limit of 100 SMS/Day which is however not officially declared.
3. As you might be knowing that Jio has several apps for entertainment and other purposes. Reliance Jio Apps Subscription Charges :-
JioTV – Rs 349/ month
JioSecurity – Rs 299/ month
JioCinema – Rs 199/ month
JioMags – Rs 199/ month
JioMusic – Rs 99/ month
JioNewspaper – Rs 99/ month
JioCloud – Starting at Rs 50/ month
JioXpressNews – Rs 0/ month
However , All above apps subscriptions are absolutely free with Jio Preview Offer & Jio Welcome Offer. You you have grabbed your sim during Jio Welcome offer then you will get free services until 31st December 2016 only. If you availed the offer through purchase of LYF Handset, then these services are free of cost till December 2017.
4. There are various weekly and monthly plans for Jio which are as follows –
Weekly Plans :-
Jio 1 Day Plan (Rs.19) – 100 MB Data | Unlimited SMS + Night Usage
Jio 7 Days Plan (Rs.129) – 750 MB Data | Unlimited SMS + Night Usage | 7 Days Validity
Jio 21 Days Plan (Rs.299) – 2GB Data | Unlimited SMS + Night Usage | 21 Days Validity
Monthly Plans :-
Jio S Plan (Rs.149) – 300 MB Data | 100 SMS | No Night Unlimited*
Jio M Plan (Rs.499) – 4 GB Data | 8GB Wifi | Unlimited SMS + Night Usage
Jio M2 Plan (Rs.999) – 10 GB Data | 20GB Wifi | Unlimited SMS + Night Usage
Jio L Plan (Rs.1499) – 20 GB Data | 40GB Wifi | Unlimited SMS + Night Usage
Jio XL Plan (Rs.2499) – 35 GB Data | 70 GB Wifi | Unlimited SMS + Night Usage
Jio XXL Plan (Rs.3999) – 60 GB Data | 120 GB Wifi | Unlimited SMS + Night Usage
Jio XXXL Plan (Rs.4999) – 75 GB Data | 150 GB Wifi | Unlimited SMS + Night Usage
Reliance Jio F.A.Q.s :-

Q) Will everything be free for Jio Preview and Jio Welcome customer till 31st December ?
Ans- Yes, till 31st December 2016, everything including calls, data, Wi-Fi, apps, will be offered for free of cost.
Q) What will happen to my 3 month free data,calls and SMS after 31st Dec?
Ans- After 31st Dec, 2016, all the free data offers will be deactivated even if you have used just one month or one day of data.
Q) Does Jio Welcome offer provides unlimited 4G data ?
Ans- No, Only 4GB of 4G data is free in one day after that you will get a speed of 128kbps.
Q) What are the JIO tariffs avaialable ?
Ans- JIO tariffs available from Rs 19 to Rs 4999.
Q) Does every tariff plan offers Unlimited SMS & 4G data at night ?
Ans- Apart from Rs 149 tariff plan, every other tariff plan offers unlimited 4G data at night.
Q) Does every tariff plan offers Unlimited calling ?
Ans- Yes, every pack offers Unlimited calling in Local, STD and roaming to any network in India (NO ISD CALLS)
Q) What time will be considered for the Unlimited data in Night ?
Ans- From 2 am to 5 am (Just 3 hours only).
Q) What will be the charge if you exhaust the offered data ?
Ans- Usage beyond the offered data will be charged at Rs.250/GB with 10 KB charging pulse.
Q) What is WiFi data ?
Ans- Wi-Fi data benefits in the plans pertain to Wi-Fi data availed in the Public Wi-Fi hotspots of RJIL.
Q) What are the offers for students ?
Ans- 25% additional 4G WiFi data benefits will be provided to students on providing a valid identity card, as per process.
Q) Any rule for the first recharge ?
Ans- The prepaid packs with denominations Rs.19, Rs.129 and Rs.299 cannot be availed as a First recharge by new subscribers.
Q) Do we get subscription to the Jio apps ? Ans- Yes, you get a free subscription to the popular Jio apps like JioTV, JioCinema, JioMusic, JioMags, JioNewspaper, JioCloud (5GB), and JioSecurity
Q) Is there any Prepaid Special Tariff pack for Audio and Video Conferencing?
Ans) Yes, there it it. The Audio conferencing pack costs Rs 49 and the video conferencing pack costs Rs 99 and both pack are valid for 28 days.