Amazon March Quiz Answers Today & Win 6 month's Free Shopping
[toc]
Amazon conducts quiz on the name of months, and Amazon March Quiz is back. In this contest, you can win 6 months free shopping. You have to answer 5 simple questions of March Quiz. We added Amazon March Quiz Answers, so that you can easily give answer and win free shopping prize. Indirectly, winner will get worth Rs 60000 shopping. So, check the Amazon March Quiz Answer for detailed information on this.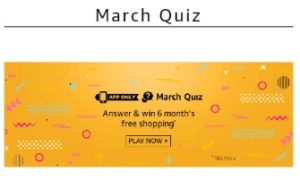 This Quiz at the last of the Homepage in the Amazon App. You will see the above shown image of Amazon March Quiz.
One winner will be selected for shopping worth Rs 60,000. Rs 10,000 per month will be given to the winner for shopping at Amazon.in. So, answer all the question of Amazon March Quiz, and grab this awesome offer now.
Subscribe to out Whatsapp Alerts. Save our number 9023498997 and then message us "SUB *your name*" on whatsapp

All March Amazon Quiz Contests Answers + WInners List: CLICK HERE

How to win 6 months free shopping from Amazon March Quiz?
1 . Download Amazon App from here
2. Open the app and you will see a banner about the March Quiz Time contest. Click on it.
3. Now click on the 'Start' button to begin the quiz.
4. You will now see a set of 5 questions about the terms and conditions of Amazon March Quiz offer. Check the answers below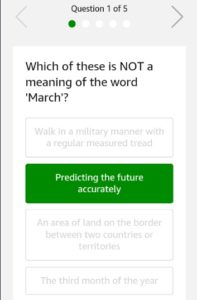 Amazon March Quiz Answers:
Q1) Which of these is NOT a meaning of the word 'March'?
Ans – Predicting the future accurately
Q2) In March the sun crosses the celestial equator and the day and night are of equal length. What is this phenomenon called?
Ans – Equinox
Q3) In Shakespeare's Julius Caesar what does the 'Ides of March' refer to?
Ans – 15th March
Q4) Which of these is a western zodiac sign associated with March?
Ans – Pisces
Q5) International Women's Day celebrated on 8 March is a national holiday in Angola, Armenia,Azerbaijan,Cambodia, Georgia, Eritrea, Kyrgyzstan,Laos, Moldova, Mongolia, Tajikistan, Uganda, Ukraine and Zambia.
Ans – TRUE
5. After answering all 5 questions correctly, you will get a Congratulations message that you have been entered into a lucky draw.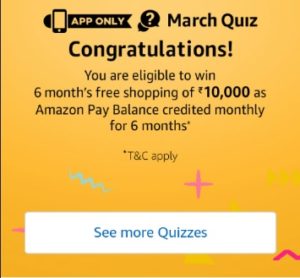 All the best for Amazon March Quiz Answers 🙂
MUST CHECK: Check All Best Rechare Offers in a new Way: Click Here
Amazon March Quiz Winner Announcement:
There are a total of 1 Prize(s) that will be given under this Contest. The Prize will be delivered to the winner on or before 30 April 2018
Terms and Conditions of March Quiz:
1. This Contest will commence on 1st March from 12:00:01 a.m. (IST) to 31st March11:59:00 p.m.
2. In order to be eligible for the Contest, during the Contest Period you must sign-in to or sign-up from an account on the Amazon.in App ("Amazon.in App").
3. Once you have signed-in to the Amazon.in App, you can participate by navigating to the page where 10 (ten) questions will be posted during the entire Contest Period.
4. Thereafter, if you answer all the quiz questions correctly, you will be entitled for a lucky draw which will be carried out amongst participants who have answered that particular question correctly.
5. The draw of lots will be carried out during the Contest Period for the questions and a total of 1 (one) participants will be selected as winners by a random draw of lots. A total of 1 (one) participants will be selected as winners of the Contest.
6. The declared winner(s) will be eligible to win Rs. 10,000 credited monthly for 6 months, i.e. a total sum of Rs. 60,000 credited over a period of 6 months in parts of Rs. 10,000 each (hereinafter referred to as "Prize(s)"), which will reflect in the winner's Amazon.in account as Amazon Pay Balance.