22nd April Today Amazon Cricket Quiz Answers & Win Rs 20000
As IPL Cricket matches will start soon and to promote that Amazon is conducting Amazon Cricket Quiz. You have to answer 7 simple question and you can win Rs 20000 from Cricket Quiz. We added all the answers of Amazon Cricket Contest. Most of the questions are based on Cricket game rules, so just answer 7 simple questions and stand a chance to win Rs 20000 from Amazon Cricket Quiz Answer.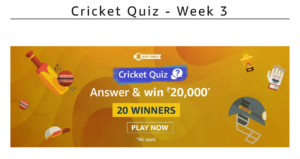 A total of 20 winners will be selected in this Amazon Cricket Quiz. This quiz will remain live until 31st May 2018. You have to go to the bottom of the Amazon App Home page to enter this quiz. We also added Amazon Cricket Quiz Winners List, you can check that from the below mentioned link.
Don't Miss to participate in other Live Amazon Quizzes & increase the probability of winning:

 Click Here
How to win Rs 20,000 from Amazon Cricket Quiz Today?
1 . Download Amazon App from here
2. Open the app and you will see a banner about the Cricket Quiz  Time contest. Click on it.
3. Now click on the 'Start' button to begin the Amazon Cricket quiz.
4. You will now see a set of 7 questions about the terms and conditions of Amazon Cricket Quiz offer. Check the answers below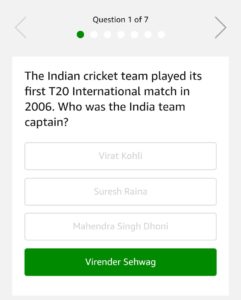 Amazon Cricket Quiz Answers Today (Week 3):

Q1) The inaugural ICC World Twenty20 was played in South Africa in 2007. Who won the final?

Ans –  India
Q2) In a T20 match, if the fielding team does not start to bowl their 20th over in 75 min, the batting side is credited extra runs for every whole overbowled after the 75-min mark.

Ans – TRUE
Q3) In the context of cricket what is a 'Hat Trick'?

Ans – When a bowler takes 3 wickets on consecutive deliveries, dismissing 3 different batsmen.
Q4) Which bird is associated with a batsman's dismissal for a score of zero?

Ans – Duck
Q5) In an uninterrupted Twenty20 game how many innings does each team play?

Ans – 1 inning each
Q6) What can Alexa NOT tell you about a cricket team?

Ans – Tell you when Sachin Tendulkar is coming out of retirement
Q7) What would Alexa reply if you ask 'Alexa, which cricket teams are playing today?' ?

Ans – Tell you the names of the teams cricket playing that day
(2018 March) Amazon Quiz Winners – All Amazon Contest Winners List
Amazon Cricket Quiz Answers Today (Week 2):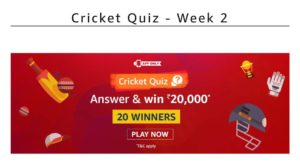 Q1) The Indian cricket team played its first T20 International match in 2006. Who was the India team captain?
Ans –  Virender Sehwag
Q2) In the context of cricket, what does LBW stand for?

Ans – Leg before wicket
Q3) In a T-20 match, a batsman is not allowed to bat after scoring a double century

Ans – False
Q4) In the context of a T20 match, what is a 'Super Over'?
Ans – A Tie-breaking method used in limited overs cricket matches
Q5) In a T20 match, what is the maximum number of overs each team bats for?

Ans – 20
Q6) Which of these countries does NOT host Twenty20 domestic competitions?

Ans – Narnia
Q7) What would Alexa reply if you ask 'Alexa, what is the score?

Ans – She will tell you the latest score
(Answers Added) Amazon Nokia 7 Quiz – Answer & Win Nokia 7 Plus
Amazon Cricket Quiz Answers Today (Week 1):

Q1) In a T20 match, no more than __ fielders can be on the leg side at any time. Fill in the blank.
Ans – 5
Q2) Which countries played in the first men's Twenty20 international ever played?
Ans – Australia and New Zealand
Q3) In the context of cricket what is a 'Timed out'?
Ans – A dismissal that occurs when an incoming batsman is not ready to play in 90 seconds
Q4) Which of these is NOT a method of dismissal in cricket?
Ans – Winking
Q5) In a T20 match, after the first six overs a maximum of five fielders can be outside the fielding circle.
Ans – True
Q6) Alexa can provide you the latest statistics for cricket players
Ans – True
Q7) Alexa can book tickets to the home matches for Royal Challengers Bangalore.
Ans – True
BHIM App Offers – Get Rs 51 Cashback on Re 1 Transaction + up to Rs 750 per month
5. After answering all 7 questions correctly. That's it. Just wait for the Winners list of Cricket Quiz.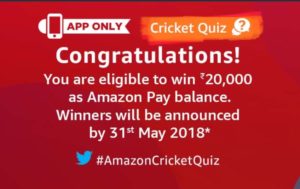 All the best for Amazon Cricket Quiz Answers 🙂
Amazon Cricket Quiz 22 April Winner Announcement:
There are a total of 20 (Twenty) Prize(s) that will be given under this Contest. The Prize will be delivered to the winner on or before 30th June,2018
22 April Today Cricket Terms and Conditions:
1. This Contest will commence on 7th April from 12:00:01 a.m. to 31st May 11:59:00 p.m.
2. In order to be eligible for the Contest, during the Contest Period you must sign-in to or sign-up from an account on the Amazon.in App
3. Once you have signed-in to the Amazon.in App, you can participate by navigating to the page where 7 (seven) questions will be posted during the entire Contest Period.
4. Thereafter, if you answer all the quiz questions correctly, you will be entitled for a lucky draw which will be carried out among participants who have answered that particular question correctly.
5. The draw of lots will be carried out during the Contest Period for the questions and a total of 20 (twenty) participants will be selected as winner by a random draw of lots. A total of 1 (twenty) participants will be selected as winners of the Contest.
6. The declared winner will be eligible to win Rs. 20,000, (hereinafter referred to as "Prize(s)"), which will reflect in the winner's Amazon.in account as Amazon Pay Balance.