Have you Amazon Fire TV stick and watch your favorite series regularly? Well, Now Get rewarded while you binge on your favorite series. Stream on your Fire TV stick for 45 hours in the next 30 days (i.e. till Dec 25, 2018) and get rewarded with Rs. 50 Amazon Gift Card.  SO, Hurry up!!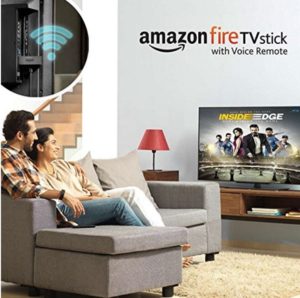 How to Get 50 Amazon Gift Card on Streaming your Amazon Fire TV stick for 45 hours in the next 30 days?
1- Check your E-mail who has already brought Amazon Firestick
2- Now, In the Email,  click on the 'Participate Now' button and enter
3- Now Start, Streaming your Amazon Fire TV stick for 45 hours in the next 30 days
4- After Completion of your streaming, you will get Rs 50 Amazon Gft Voucher for free
5- Done
Terms & Conditions-
1) This Binge Watch Challenge offer ("Offer") is a limited term promotional offer provided by Amazon Seller Services Private Limited Devices ("Amazon") as a special offer only for customers purchasing and using Amazon Fire TV Stick ("Eligible Product"). This Offer is made available by Amazon on the user interface or the customer application of the Eligible Product.
2) These Offer terms and conditions ("Offer Terms") are in addition to the terms and conditions that apply to your use of the Eligible Product, to which you / an Eligible Customer agree to by using the respective Eligible Product. The Offer Terms are also in addition to Amazon.in Conditions of Use & Sale and Privacy Notice to which you agree to by using Amazon.in. To the extent any such terms and conditions are inconsistent with these Offer Terms, these Offer Terms shall prevail with respect to the Offer only.
3) This Offer will be provided only to the customers who have used the Eligible Product to view the available content, for an aggregate time of a maximum of 45 hours during the month of October 2018 and consequentially receive an email from Amazon to opt-in to this Offer ("Eligible Customers").
4) This Offer will be available from November 26, 2018 to December 25, 2018 (both days inclusive) ("Offer Period"), unless extended or revoked by Amazon at its sole discretion and without any prior notice and without any liability.
5) Under this Offer, an Eligible Customer who uses the Eligible Product to view the available content for at least an aggregate of 45 hours during the Offer Period, will be eligible to receive a reward for an amount of INR 50 ("Reward").
6) The Reward will be provided in the form of Amazon Gift Card issued by QwikCilver Solutions Private Limited, which is redeemable into the Amazon Pay Balance, associated with the amazon.in account of the Eligible Customer. The use and redemption of Amazon Gift Card and the use of Amazon Pay balance is subject to the applicable terms and conditions.
7) This Offer is available only to Eligible Customer(s). In other words, to be eligible to avail the benefits under this Offer, you are required to be continuously using any one of the Eligible Products, and acknowledge that this Offer is linked to your use of the Eligible Product. For the avoidance of doubt, it is clarified that in the event an Eligible Customer uses a particular Eligible Product, such Eligible Customer will be entitled to avail this Offer only in respect of the said Eligible Product (and no other).
8) The Offer can be availed only once using an Eligible Product as well as from a particular Amazon.in account.
9) Under no circumstance can the benefits under this Offer be settled with cash in lieu thereof.
10) By participating in this Offer, you expressly agree that Amazon or any of its affiliates will not be liable or responsible for any loss or damage whatsoever that you may suffer, directly or indirectly, in connection with this Offer, including but not limited to that associated with your use of an Eligible Product.