As we are nearing our Independence day, it is raining offers from all the shopping websites on all the categories. Vivo a smartphone brand which released Vivo NEX mobile recently became a huge eye catcher because of it's elevating camera feature and gorgeous display.
Now Vivo is offering Vivo Nex and Vivo V9 smartphones at just Rs.1947 under flash in order to celebrate our Independence day. One will be able to participate and buy from 7th to 9th August and few other Vivo products like USB cable, Earphones at just Rs.72 during the sale. Register now and prepare for the sale !!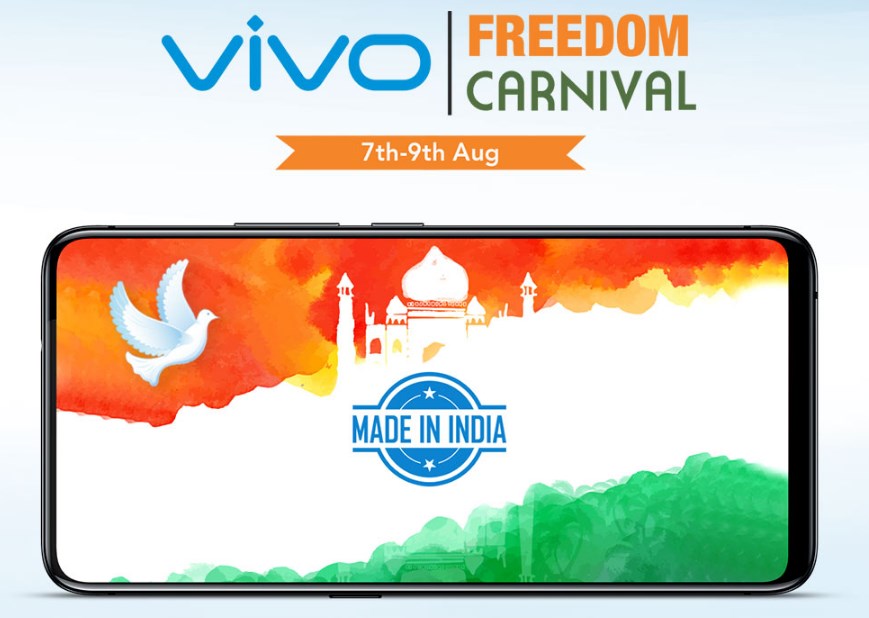 How to buy Vivo Nex at Rs.1947 only & many more exciting offers? :
1 . Visit the offer page here  and create an account for yourself by pressing the Signup button on the top of the page
2 . Starting from 7th to 9th August 2018, exactly at 12 Noon the sale goes live
3 . Login with your account prior to the sale. Click the Buy now button under the respective products
4 . Make the payment with the available options
5 . Done !!
Other offers :
Apart from the Vivo Nex and V9 offer, Vivo is also offering their own USB cable, Earphones at just Rs.72

What payment options are available in this offer?
You can make the transaction using any payment method available on Vivo E-Store (shop.vivo.com/in).
Terms and Conditions :
1. This ₹1947 and ₹72 Flash Sale is run by Vivo Mobile India Private Limited on Vivo India E-Store ("Seller").
2. Participation in the Sale is open to only those users of shop.vivo.com/in on both Desktop and mobile who qualify as eligible Users under the Terms of Use of the website.
3. Products available under this Sale are limited in quantity and are given away on a first-come, first-serve basis. Sale will be held once on each day from 7 – 9 August 2018 as per the following schedule:
• Sale of Vivo Nex, V9, XE100 Earphones, USB Cable and XE680 Premium Earphones will start at 12:00 PM each day till stocks last.
4. A User who successfully adds a product during the Sale must complete the purchase within ten (10) minutes from the beginning of the Flash Sale, failing which the order will be canceled.
5. Seller reserves the right to review and cancel orders under this Sale in case of any suspicious or fraudulent activity.
6. All Users who successfully purchase product(s) during the Sale shall refrain from commercializing/ selling such product(s). Any irregularities found will lead to immediate disqualification and blacklisting of the User.
7. Seller reserves the right at its sole discretion to withdraw, cancel, amend, or modify any part of or the entire Scheme at any time without any notice and Seller will have no liability in relation thereto.
8. Seller reserves the right to cancel any bulk orders.
9. Each customer can avail only one product in this deal in the whole offer tenure, repeated orders will be cancelled/reversed.