Seems like days come and go very faster. It's hard to believe that it had already been the 3rd year of celebration of Sahil's (aka Dealnloot Admin) birthday from our Dealnloot Family. Have a look at the celebrations of previous years 2017 and 2016 , if you have missed so. Today's date has been always a special day for us and it would remain to be. So join us in the celebrations and wish our admin a "Many happy returns of the Day". Have an insight on what we had to say to our beloved Admin and extend your wishes too, for the reason that he is the sole ground we had this great platform here making our Online Shopping a remarkable memory. Toh ek wish toh banta hi hai na 😉 #DnlAdminBday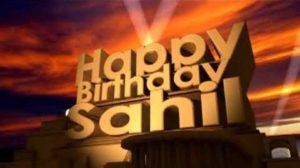 Winners of the Giveaway are announced and the prizes have been sent to the mail ID used while commenting. Thanks for your participation 🙂

Wishes from Dealnloot Family
Ajay Prajapati



On this special day, I just wanted to remind you how much We love you and thank you for all those times you have supported us. I hope someday I'll be able to do also something important for you. Happy Birthday, Dear Sahil !! I hope you spend the best time with all of us, your lifelong friends. "
Happy Bday dear Sahil
Ajay Ranjan



My heartfelt wishes and blessings are coming your way on the wonderful occasion of your birthday. I will pray that you receive more than you have hoped for this birthday. I send my best wishes to one of the best persons I know, who is like a best friend to me and has given me the best possible times in my life. Here's raising a toast for your Happy Birthday!
🍬🍫🎂Happy Birthday Sahil🎂🍬🍫
Aniruddha
Happiest birthday our dear beloved admin Sahil bhai…🤗🎂
You have not only been my brother but also my most trustworthy friend as well…☺
As your name suggests, Sahil is seashore … who guides … who protects … who helps many from the difficulties…☺
May this year be the best for you…
Happy birthday again brother… 🤗👏🏻
Last but not the least..
.
.
.
Party toh baanti hai… 🍧🥙🥪🎂🥃😋😋😋
Arjhun
My wishes for your birthday include a lifetime of laughter, a passing acquaintance with life's worries and tons of big dreams fulfilled. May all your fantasies become reality because you are so worthy.
Naveen
Happy Birthday…Admin Ji
🔥
👉🏻Chalo shuru krte h…Saada Pyaara sa duao bhra khat jisme aapke Janamdin ke shubh avsar pr hamne apni bhavnaaye vyakt ki hai..!!
Sahil Bro, u have always been a great admin supporting me in every single mistake and "questions" i asked 😛…I know my training period was tough for you…but your motivations and raat ko bolna…."drte kyu ho..try to kro..boht aasan hai"…😂😂..helped me a lot in attaining perfection in posting especially Masterposts….You are a great friend , Good leader and a great guide to all juniors…I know my activity in dnl is highly reduced because of college works and projects…Par i will try mah..best in improving it…and will work on all Kind of posts (masterposts too😛) 😃🤓
Aapke liye ek duaa maangi hai…badi shiddat se 😛
" Mechanical branch se nikle hamare Sahil Kumar ko jldi se gf mil jaaye 😝"
Or..or…haan…I wish you take Dealnloot ahead and be a great ambassador in Future….Journey of Dealnloot has been great and full of various positives and negatives…But your dedication has taken it to great heights…I will always support you in your decisions and work 😇
Chalo..Chalte hai ….waise b exam aane waale hai 😂😂….padhna hai mujhe….2 mahine 😂🤣
" Once Again A Very Happy Birthday Sahil sir"
Keep Smiling
Keep Working Hard
Keep Taunting authors
Keep Saying No..when asked for "pagar bhda do"
Keep the Dealnloot Family a Family ❤
Stay Happy …!! Stay Blessed…!!
Appiee Bday…!! Sionaaraa.!! 🥧🎂🎂🎂
Nikhil Ranjan
Special day, special person and special celebration. You are the person who always deserves the best and obviously nothing less. It's an honor for me to congratulate you on your Special Birthday.
🎈🎉🎈🎉🎂🎉🎈🎉🎈🎈🎉🎈🎉🎂🎉🎈🎉🎈🎈🎉🎈🎉🎂🎉🎈🎉🎈
Wishing a very Happy Birthday to most talented, hardworking, determined and consistent person of dealnloot. Happy Birthday Sahil. May all your dreams and desires come true in this coming year.
🎈🎉🎈🎉🎂🎉🎈🎉🎈🎈🎉🎈🎉🎂🎉🎈🎉🎈🎈🎉🎈🎉🎂🎉🎈🎉🎈
Whenever I came across dealnloot, I always want to be part of it. You picked me, guided me and transformed me to become a blogger. I want to thank you for keeping the belief in my ability.
Now it's time to celebrate and make this special day more colorful. Happy birthday once again. Enjoy the Day !!!
Jasleen Singh
Here we are back with a new occasion for you. Dealnloot is celebrating **st/nd/rd/th birthday of Sahil. Sahil is a one of the oldest Authors and sometimes he becomes Admin of Dealnloot. So, just read this post to get all the information regarding the Birthday of Sahil.

Jokes apart!! Happy Birthday, Bro. You keep on motivating and guiding me, whenever I was am confused. You never acted like an Admin. Thankz for everything, enjoy your day. Happy Birthday once again. 😀
Pramoth
Happy birthday Sahil. Thanks for creating DnL platform and working hard to keep it at the top.
From a regular visitor of dnl and now a part of it for the past 1 1/2 years is special for me. Many more happy returns.
Vivek
Happy Birthday Dear Admin🎂🎂
May your coming year surprise you with the happiness of smiles, the feeling of love and so on. I hope you will find plenty of sweet memories to cherish forever. Happy birthday
Myself (Divya Sri)
Wish you many many happy returns of the day Sahil. Celebrating your birthday gives me excitement no less than celebrating mine. No matter these days how much I annoy you and fight for all silly things :/ but you know, you always do have a special place in my life. For the justification to the saying that – Friendship is a perfect blend of sharing and experiencing sorrows, scoldings, compliments and arguments too, I would say we are the befitting illustration for it.
Hoping for a wonderful year ahead which would optimistically fulfill my dreams I have for you, such as – Making Philosophical discussions with me, Encouraging me to watch and try participating in Bigg Boss :/ , Kam beizzati (troll) karna and Facebook servers ko thoda rest dena. You know Zuck is complaining to me that they couldn't be able to handle the huge traffic coming from you 😛
May all you endeavours come true and you explore the right ways of carrying out the things, eliminating the very few flaws you have, to become Mr.Perfect 😉 Happy birthday once again my bestie. Rock the day, Party hard & Stay blessed 🙂
Surprise Birthday Giveaway
As people say, there isn't a completeness in any celebration unless it is accompanied with a party to our friends. What else could be a better occasion than a birthday to give a party ? So here is the party to you all, since you are equally as important as friends and infact even more than that. Do participate in this Surprise Giveaway and get a party by winning recharges worth Rs 1800 for different tasks. Let's see in detail what this giveaway is comprised of.
1. Wish your Admin

(Winners – Sagar Gupta, sandeep, saurabh)



Just wish Sahil on this birthday, but in a different and unique style. The best 3 wishes would win 3 vouchers of Rs 100 each.
2. Shower your love through Art

(Winners – Kaushal, Pad)



Write your birthday wish on a paper, click a picture of it and upload it here in the comments. Top 3 pictures would be selected and can win 3 vouchers.
How to upload an image – Visit ctrlq.org/images >> Upload Picture (Select image & upload). Copy the "Image Embed code" and paste it here in comments.
3. Make a Meme

(Winners – Nitin, Chandan Singh, Kaushal)



It's a meme time now in social media and I don't think you aren't an exception to it. Sahil, being a FB addict tagging and getting tagged on memes all the day, what else would be a better gift than making a meme on him ? So make a funny meme and get yourself in for a chance of winning 3 vouchers.
4. Troll your Admin

(Winners – Rohit Kumar Pandey, Amit)



Trolling our friends is the best experience we can ever have and if it's done on his birthday ? Then it's just like icing on the cake. Let's not miss this chance at all. We have 3 questions for you, answer them in a funny and trolling way. Best answer for each question would win a voucher each. Remember we want the funny answers, not the actual ones.
Qn 1 – Make a guess what could be the age of Admin ? 😛 Probably add a suitable explanation to your answer.
Qn 2 – What fictional / cartoon / super hero character would Admin be perfectly suitable for ?
Qn 3 – Find out the mistakes of Admin in his posts – Check here for his posts . May it be grammatical, presentation or anything else and mention them here with the link of the post.
5. Admin ko Sudharo !

(Winners – Nitin, Rohit Kumar Pandey, Chandan Singh)



Birthday is also about making some teachings and letting them change to become even a better person in the coming year. So we would say some negatives about him and give your suggestions on how to change 😛 . 3 winners – Rs 100 each.
Qualities : Laziness, Facebook Addict, Too much Sleeping, Last Minute Rush, Weight Deficiency Syndrome 😛
6. Time to Praise

(Winners – Nil)



Too much trolling had been done already. We would now make some admiration to nullify the above effect 😐 . Share your experiences with Dealnloot and with Admin in specific, highlight how helpful he had been for you to let you 'Never Pay Full'. 3 best answers – Rs 100 voucher each.
How to Participate and what exactly is the Prize ?
1. Give Answers for the above tasks in the comment section below mentioning which task you are answering for. Answers are accepted till 10 PM , 21st Feb.
2. You can participate in all the tasks. However, a maximum of 2 prizes can be won by a single person for everyone to have a fair chance.
3. Winners will get a voucher from "Marvel Tea" each worth Rs 100 which can be used for Recharge or Bill Payment of the operators – Airtel, Idea, Vodafone, Telenor, Aircel, Uninor and MTS.
4. Vouchers will be sent to the same mail ID used for commenting, along with the details on how to redeem them.