Amazon's Great Indian Sale is due on 9th August but the momentum building has already begun with amazon giving 15% cashback already + organizing a lot of contests on its app. It is today organizing a 'Guess Who' contest in which there will be 29 puzzles to be solved for a period of  2 days from 10 AM- 10 PM on 7th and 8th Aug and one winner will be announced for each puzzle by 8th Sep 2017.  So why not take part in the amazon guess who contest ?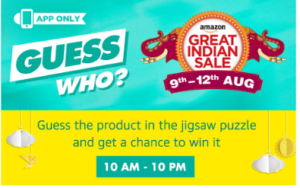 In the guess who contest, you need to find the product from broken parts of its image. But in order to make your job easier, we will be adding answers to the clues in this post at regular intervals. So, hurry up and participate now !
Also, do not miss to add Rs 500 or more to your amazon money and get 15% cashback which will be very helpful during sale. Add Rs 2000 for max benefit (Rs 300 cashback)

Check handpicked deals from Great Indian Sale at 12 AM today by

clicking here
Answers to 'Guess Who Contest'
8th Aug :
9 PM – Bombay Shaving Company 6 Part Shaving System Rs 3675 2995
8 PM – Swarovski Krishna Peacock Feather Designer Pendant for Women by YELLOW CHIMES  Rs 4487 1325
7 PM – Spaces Minions Printed 180 TC Cotton Single Bedsheet with 1 Pillow Cover – Grey  Rs 1795
6 PM – Hot And Bold "Certified" Natural Gem Semi Precious Stones & 7 Chakra Onyx Stone Chain Bracelet For Men & Women Rs 3,000 549
BUMPER CLUE – Citizen Analog Black Dial Men's Watch – AG8330-51E Rs 11,200 5,937
5 PM – SYSKA HC5201 Hair and Beard Trimmer (Black and Grey) Rs 2,399 1,930
4 PM – iRobot 900 Series Roomba 960 Vacuum Cleaning Robot (Grey) Rs 64900 49900
3 PM – Protoner 20 kg PVC weight with 4 rods home gym package Rs 1549
BUMPER CLUE – BPL 101 cm (40 inches) Vivid BPL101D51H Full HD LED TV (Black)
2 PM – Lavie Women's Handbag (Pink) – Rs 4990 2168
1 PM – Flyberry premium dried figs 500g
12 Noon – Dremel 4000-4/65 EZ 175-watt Multi-Tool Set (69-Pieces) Rs 13,199 10,999
BUMPER CLUE – Lego MINDSTORMS EV3 31313 – Rs 32,999 26,399
11 AM – Panasonic EH-HV20-K62B Hair Straightener (Black) Rs 2,995  2,561
10 AM – Kadence Frontier Series,Black Acoustic Guitar Combo(Bag,strap,strings and 3 picks) Rs 10,000 4,550
7th Aug :
9 PM – IShake Tabster Plastic Sports Shaker Bottle Rs 799 399
8 PM – Scholl Express Pedi Electronic Hard Skin Remover for Feet (Blue) Rs 999 949
7 PM – Solimo Microfibre Reversible Comforter, Double (Peach Pink & Cheery Yellow, 200 GSM) Rs 3000 1741
6 PM – Urban Ladder Apollo Three Seater Sofa (Cobalt)  Rs 38999
5 PM – Hidesign Women's Shoulder Bag (Midnight Blue Lobster) Rs 6,295 4,482
4 PM – RJ761 61 Keys Electronic Interactive Teaching Piano Keyboard Rs 13,579 9,999
3 PM – Solimo Non-Stick 3-Piece Kitchen Set (Induction & Gas compatible) Rs 2639 1365
2 PM – Amazon Fire TV Stick with Voice Remote | Streaming Media Player  Rs 3999
1 PM – Honeywell Air Touch HAC35M1101G Air Purifier (Champagne Gold)  Rs 32990 25223
12 noon (Bumper) – Urban Ladder Apollo Three Seater Sofa (Cobalt)  Rs 38999
12 AM – Wildcraft 60 Ltrs Red Rucksack (8903338073826)  Rs 2999 2916
11 AM – Philips BHS384 Selfie Straightener (Purple)  Rs 1695 1648
10 AM – Butterfly Spectra 750 watt Mixer Grinder Rs 5769 3799
How to win free products from amazon guess who contest ?
1 . Download Amazon App from here
2. Now open the app and you will see 'Guess Who' banner on top. Click there
3. Now you will be shown a jigsaw puzzle which is nothing but a jumbled image of some amazon product.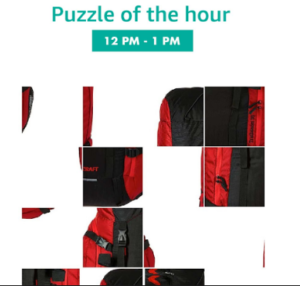 4. All you need to do is guess what that product is and search for it on amazon app
5. Once done,  you will find a 'Guess Who' sticker on that product
6. Just click on the sticker to claim your entry to a lucky draw where every one product will have one winner
Enjoy !!
Terms and Conditions
1. This Contest will be live from 10:00:01 am (IST) 9:59:59 pm (IST) on August 7, 2017 and 10:00:01 am (IST) and end at 9:59:59 pm (IST) August 8, 2017 ("Contest Period")
2. Amazon will be displaying masked images (like a jigsaw puzzle) of products each on the 'Guess Who' Contest page along with a clue relating to the same product during the Contest Period. Each image of the product(s) will be displayed on an hourly basis during the Contest Period.
4. Customer must: (a) identify the product based on the image displayed and the clue relating to the product thereof; (b) navigate to the product detail page (that is hinted by the image and the clue); and (c) click on the 'Guess Who' sticker.
5. At the end of the Contest Period, all the participants who have clicked on the 'Guess Who' sticker in accordance with the above will be eligible for a draw of lots that will be conducted amongst the participants who have clicked on the 'Guess Who' sticker for that particular product correctly.
6. Selected participants will receive an e-mail notification from Amazon with a Contest question and will be required to follow such other steps as mentioned in the e-mail.
7. The participants who answer the Contest question correctly will be declared as the winners. A total of 29 participants will be declared winners by September 8, 2017.
8. Each winner will be eligible to receive that particular product which he/she has identified and clicked on the 'Guess Who' sticker under this Contest ("Prize"). Also, each winner will be entitled to one Prize each under this Contest only.