Mi is back with an awesome offer for their users on Mi 24 Hours Madness. Now Get Mi Products like Power Bank, Mi Router, Mi TV, Earphone at 50% Off or Rs 1 only . So, Hurry up!! and grab it fast before sold out.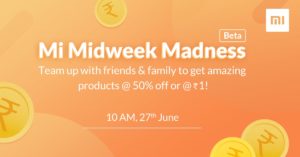 You can share you links in the comments so that we all as a community could help each there to get these products for free.  Happy Looting 🙂
How to Buy Mi Products like Power Bank, Mi Router, Mi TV, Earphone at 50% Off or Rs 1 only?
1- Visit here for- Mi Router 3C White at Rs 1 I Mi Earphones Silver at Rs 1 I Mi LED Smart TV 4 138.8 cm (55) at 50% Off I  20000mAh Mi Power Bank 2i White at Rs 799
2- Login / Sign up (During the event, new registered users can also get a ₹1,000 coupon package!)
3- Click on Drop Price Now
4- Now Share your Links to get more price reduction
5- Done
6- If you get enough click within 24 Hours, you get this amazing product at Rs 1only
Rules- 
1. After initiating the task, invite friends to like the product and drop the price within 2 hours.
2. After a successful price drop, you can purchase goods at the specified price within 3 days.
3. If you do not pay for the purchase within time, you are deemed to have voluntarily waived your purchase rights.
4. Each time you like to lower the price, invite more friends who can help you to succeed.
5. During a task, a single friend can only help once.
6. Each user can help to drop the price up to 10 times a day, at different tasks.
7. All tasks have limited stocks and shall be given out on a first-come first-serve basis.
8. During the task, if the stock of goods is exhausted or the task time runs out, the task will fail.
9. The conditions for the new user coupon package are: Users register during the event, and participate in the task to help drop the price.
10. The offer is valid only if you bring the price down by 50% or to ₹ 1.
11. Seller reserves the right to review and cancel orders under this sale in case of any suspicious or fraudulent activity.
Note
You can share you links in the comments so that we all as a community could help each there to get these products for free.  Happy Looting 🙂