You many times heard about amazon treasure hunt.In which you find products with clues. With A similar Concept TataCliq is Here with a Treasure Hunt. In this treasure hunt a number of products will be available to grab at  99% Off . So Get Ready for This Bash and Tie your seat belts for Next Clue.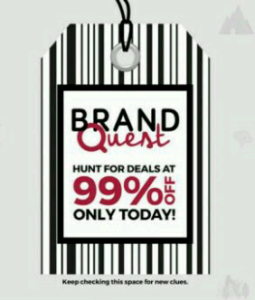 11th Jan Clues –
10 AM – Over
3 PM Clue – TataCliq has called off the contest.
4th Jan Clues & Answers
6 PM Clue – Featuring a salutation and a fruit, this german brand is named after a book that features a crook

3 PM Clue – From the land of crown, it rhymes with a term you'd say when you do the opposite of frown.

How To Avail This Offer ?

1. Download TataCliq App From Here
2. Login or Register
3. Click On Brand Quest Page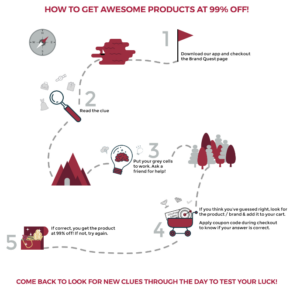 4. Read The Clue
5. Search For Product And If You Think You Find Right Product
6. Then,Apply Coupan Code To Know Your Answer Is Correct
7. If Your Find Right Product Then,You Will Get Flat 99% Off
8. Pay Rest Amount
9. Thats It
Terms And Conditions:-
1. Only 1 product can be purchased at 99% Off by 1 customer
2. If the ordered product is cancelled,you will only receive the amount paid
3. This offer can not be clubbed with any other offer
4. Registration on iOS/android app,mobile site or website is mandatory to apply coupon